Three Words to Describe pi-tops? "They. Are. Amazing."
Dean Johnston is the Deputy Headteacher at Corbridge Middle School in Corbridge, north-east England. Corbridge is a popular 9-13 middle school with high academic standards, and a focus on developing successful learners, confident individuals, and responsible citizens. As well as being deputy head, Dean teaches computing technology and runs a curriculum enrichment programme, and has recently started using the pi-top with his students.
School size: approx. 350 (Years 5-8)
Students per class: approx. 25
Corbridge Middle School's ambition is to create outstanding educational opportunities for their students, both inside and outside of the classroom. In order to deliver a relevant and differentiated curriculum and as part of their enrichment programme, the school adopted pi-top to develop the physical computing aspect of the curriculum. Dean is clearly passionate about using pi-tops and says that as a result, there has been a positive impact on both student progress and engagement in computing technology.
In the words of Cecile, one of Dean's Key Stage 3 students, "using the pi-tops has been great, I have loved collaborating with others, doing and creating amazing and useful things that could be put in place in the real world!"
What were the school's computing technology needs?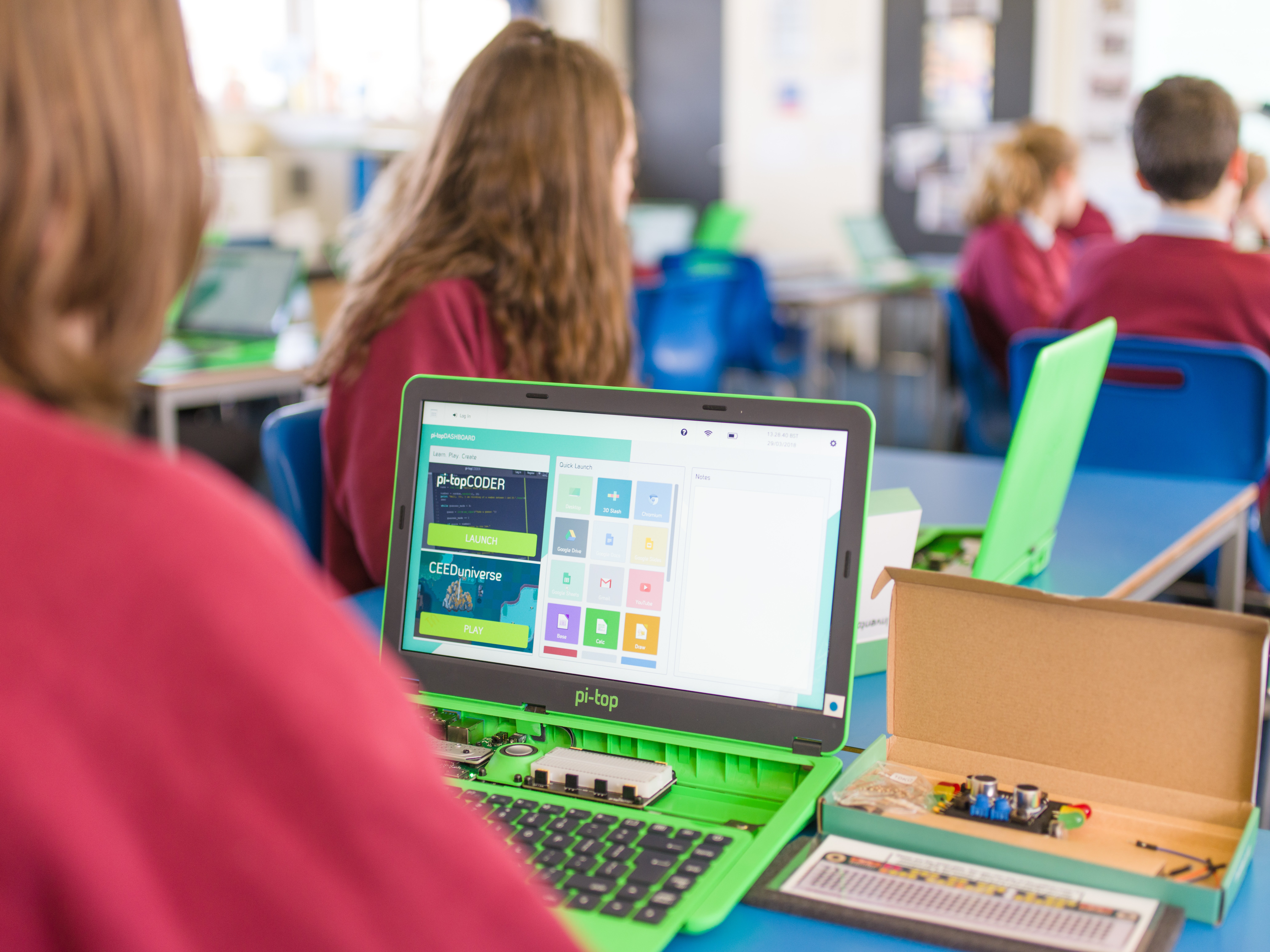 Corbridge was looking for a product which would support them in developing the physical computing aspect of the curriculum at Key Stages 2 and 3. They wanted their students to get hands-on and working with physical devices.
They also wanted a product which would cater to all the ages at their school (9-13), as well as to students of all abilities within that age range.
The product also had to provide the opportunity for extended learning, with increasingly challenging lessons for students as they progress and become more proficient.
Finally, it had to be engaging, something that students would enjoy and want to use.
Dean enthusiastically told us that he is delighted with the pi-tops and the projects they include (which means we're delighted too!).
So what is it about the pi-top that meets the school's computing technology needs?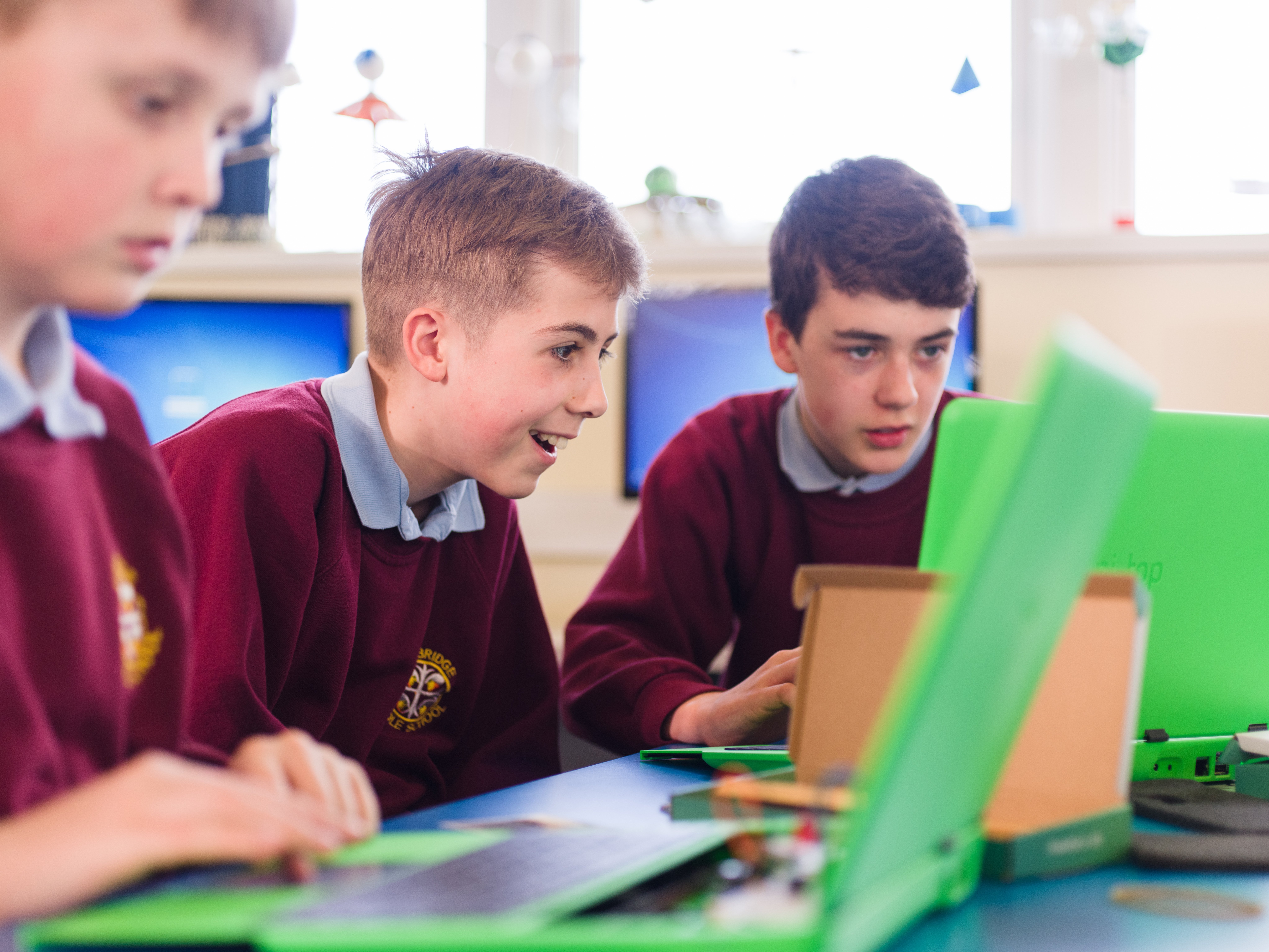 Over to Dean…
pi-tops are hands-on fun! "Because pi-tops are so hands-on, they really help with student engagement in computing technology. I've definitely seen an increase in engagement across the board since we started using them and I'd say my students' favorite thing about pi-tops is that it allows them to get physical. Rather than just using a computer, they are the creators of that computer." KS3 student Cecile agrees, saying, "I have really enjoyed using the pi-tops…using all of the components and doing the Python coding has been really fun, as well as interesting, and I feel like I've learnt a lot." High praise indeed, thanks Cecile!
Relevant curriculum content: "It's great that the content is linked to the real world because it means there's a purpose to what the kids are doing. For example, the sonic sensor links to how bats use sonar, or how architects use distance meters. It just makes more sense for our students – it's not just connecting wires. It gives a sense of meaning."
pi-tops support all abilities: "Whether a student is a beginner or advanced in computing technology, they can work with pi-tops. The materials and resources are there for students of all abilities. For example, more advanced students can create their own code, while beginners can copy and build on examples of code already there. I was really pleased with the variety of components you get – they allow you to create advanced circuits and do lots of different things."
Catering for different learning styles: "pi-tops allow for both individual development and working in pairs or groups. I like the whole approach. My students learn, then they try, tinker, test, collaborate and finally share the knowledge they've developed. It really supports collaborative learning, and it also encourages creativity because kids are thinking of out-of-the-box ideas and can apply what they've learnt straightaway."
Ease of use: "It's a very straightforward system to use. You can open them up and get started straight away. Everything slots together easily. Also, you don't need a power supply for each unit so you can use them in any room, not just a specialist computer room. That makes them so much more accessible and facilitates the lessons. Plus, they're light and compact which makes them easy to move from classroom to classroom."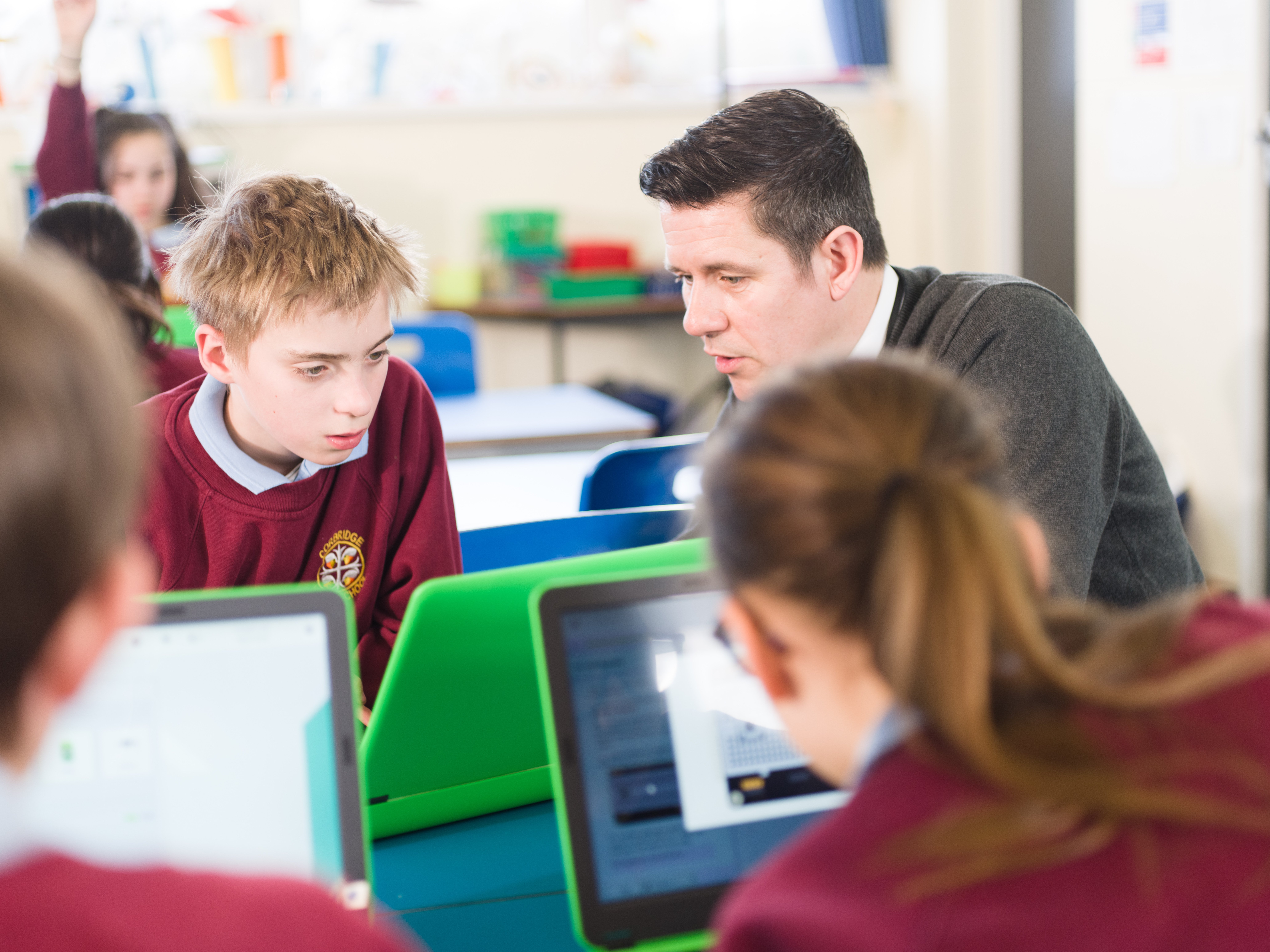 Dean has noticed that not only have pi-tops allowed all of his students, no matter their level of ability, to make progress, but their language and vocabulary has also improved. He told us with some amazement that his eleven-year-old students "understand what an analogue digital converter is and they know how to use it!"
Parents attending a recent school open day at Corbridge were also "wowed" by the pi-tops, and couldn't believe the level of development in coding and understanding of electronic components, as well as the children's confidence in using and talking about them.
Overall, the pi-tops have been a big hit with teachers, students and parents.
Dean's final word: "Can I have three words? They. Are. Awesome…wait, no, I need three more! Inspirational. Motivational. Engaging."
If you'd like to find out more about how 'learning by making' with pi-top can help you, your students and your school, get in touch here.