Hardware isn't the only thing we've been working on over the past year and a half, we've also extensively overhauled the pi-top operating system. We think it's the best OS for makers, Siriusly…
While our engineering team are putting the finishing touches to pi-top [4] hardware, our software team have also been hard at work completely updating the pi-topOS. The latest version, called Sirius, (we name all our operating systems after stars) is faster, contains new services and has some amazing new features.
A beta version is available for you early adopters here on our OS download page (or you can just click the button below). You can install Sirius in exactly the same way you would Polaris, full instructions and a video on how to do that are on this blog post here.


Look and feel
First up, the look and feel. The team spent a lot of time making sure pi-topOS Sirius was the most beautiful, easy to use OS available for Raspberry Pi. It now sports an easy-on-the-eye colour scheme, font and icons that not only looks great but are fully accessible too. So learners with colour sensitivity or other visual issues should find it easier to use. Good looks aside, we've also improved the user experience with a new, handy notification system that tells you when updates are available when your pi-top's battery level is low, a reboot is required, and more.
Call off the search
Also included is Search Portal, simply type what you're looking for and instantly find hundreds of the best projects, articles and research papers selected by pi-top's global curation team. With Search Portal, you're never stuck for support, advice or ideas. You can easily configure it so search portal appears when you boot to desktop, as well as access it anytime via the magnifying glass icon in the start menu.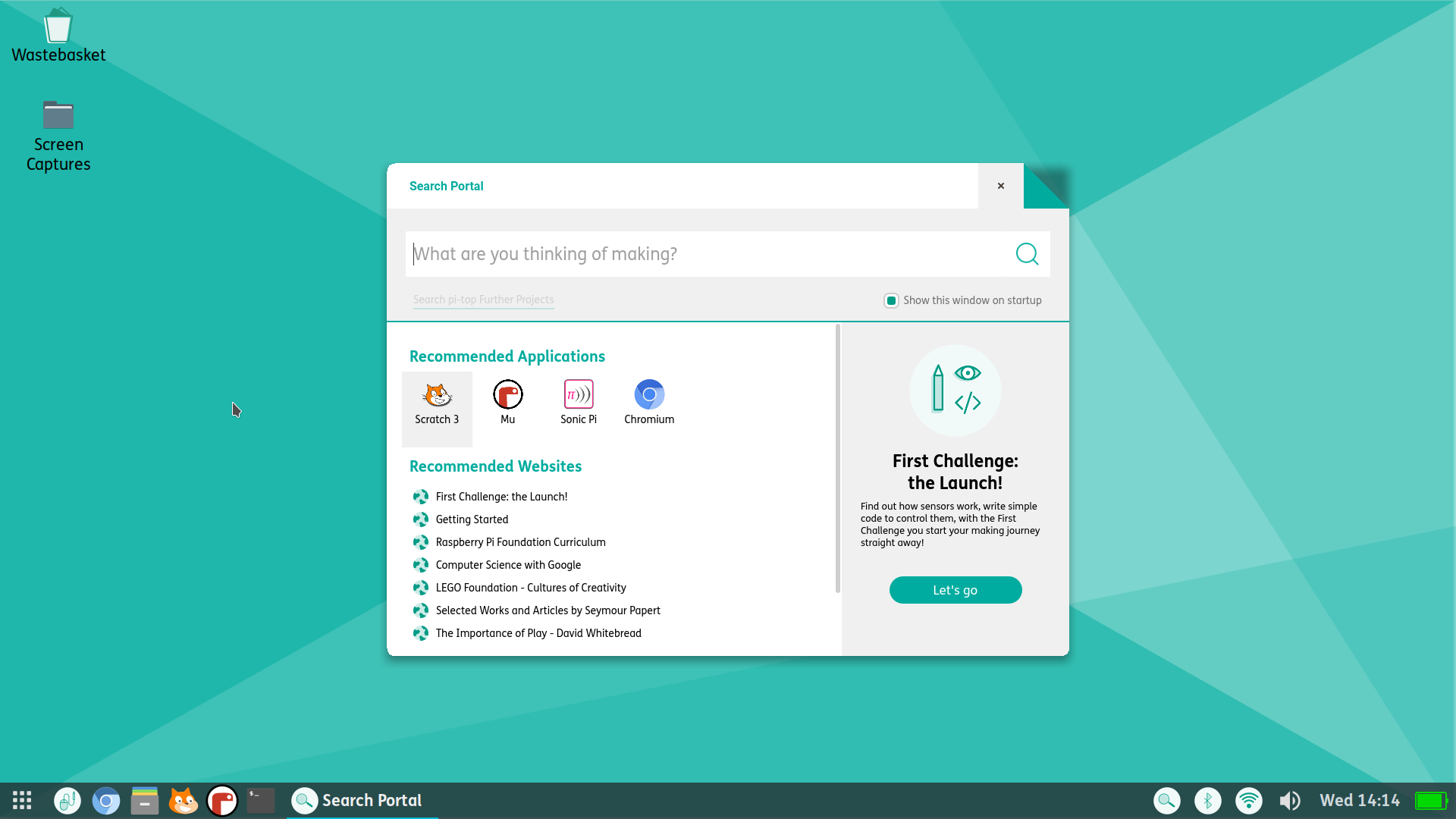 Scratch 3
The latest version of Scratch, Scratch 3, is now available without an internet connection for Raspberry Pi (complete with support for interfacing with devices that are connected to the Pi's GPIO pins), so naturally, we've added it as standard. One thing we've noticed, a RPi 3B+ struggles to run Scratch 3, so that's something to be mindful of if you're upgrading. Scratch 2 is still available and is also included.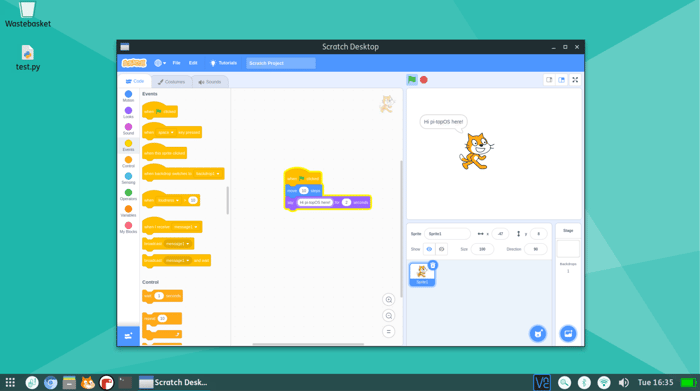 Other included software
pi-topOS Sirius comes with Mu, and we've also bundled some additional free programs for working with images and audio (check the OS download page for the full list). All this, we believe, makes pi-top OS Sirius the best software for designing, coding and making whatever you want.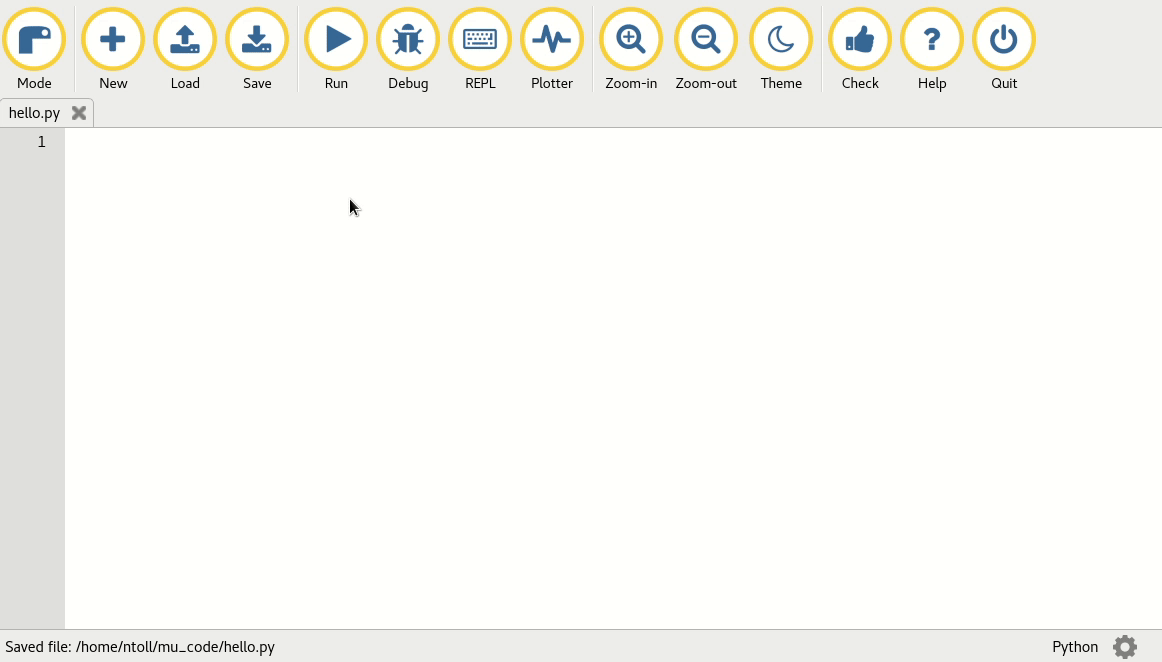 So long Dashboard
We've also taken the opportunity of an OS update to retire certain features. One of the most notable things that has changed is that pi-topDASHBOARD has gone. In doing this we've significantly improved memory and CPU performance, as well as booting speed when compared to pi-topOS Polaris.

Settings that were originally accessible in pi-topDASHBOARD can now be found in the settings application in the new start menu. pi-topCODER can also be found in the start menu but please note that pi-topCODER is being phased out in favour of pi-top Further (more on that in another blog post soon), and so is no longer being maintained. However, all of your projects are still stored and accessible as they were in pi-topOS Polaris.

Also, after several years we've decided to retire CEED Universe. We've done this so we can concentrate developer time on new projects and services rather than legacy apps. We do hope you enjoyed it. We're exploring an option to hand the source code to Universe over to the community.
Let's get Sirius...
Built on top of the latest version of Raspbian (codenamed 'Buster'), pi-topOS Sirius offers support for Raspberry Pi 4 which is at the heart of pi-top [4]. However, you can also install it on pi-top [3] and pi-top CEED, as well as any stand-alone RPI 3B+ or above.
Our new operating system is available to download and install for free on our OS download page.
It's currently in beta, with the alpha release on track for a November launch alongside pi-top [4]. As with all beta software there may be some issues so use with caution.
How to install pi-topOS Sirius
You can install Sirius in exactly the same way you would Polaris, by burning the disk image to an microSD card using a program called Etcher running on another computer. There's full instructions and on this older blog post.
If you've any questions or comments on Sirius or if you're having any issues, please get in touch via support@pi-top.com who'll be more than happy to help. If you've any comments, suggestions or just want to chat about Sirius, use the comments box below.