Eben Upton is the CEO and inventor of the Raspberry Pi, the computer that powers the pi-top family. So it was only fair that we gave him exclusive access to our latest product.
---
Andrew at pi-top:Eben, you've had a sneak peek of pi-top [4] prior to its release. What do you think of it, and how do you see it working?
Eben Upton: I think I've been involved in the pi-top story all the way through. I remember being at TechCrunch Disrupt in 2014. I was on stage with Jesse [Lozano, pi-top's co-founder & CEO] and he handed me a 3D printed prototype and it was like nothing I'd ever seen; a laptop that you could hack with.
I mean, I can see that device just getting everywhere, right?

Eben Upton, Raspberry Pi CEO
Eben: What's been interesting to watch is the evolution of the product from
3D printable laptop to professionalised laptop, to pi-top CEED, to the second generation laptop (pi-top [3]), and now to pi-top [4]. It's been interesting to watch the company sense the market. Raspberry Pi have been quite constrained in terms of this because we really haven't had any choice about what we build, so it's been great to watch another company do that. And each generation has addressed the challenges of the previous generation, polished the value proposition. I like it.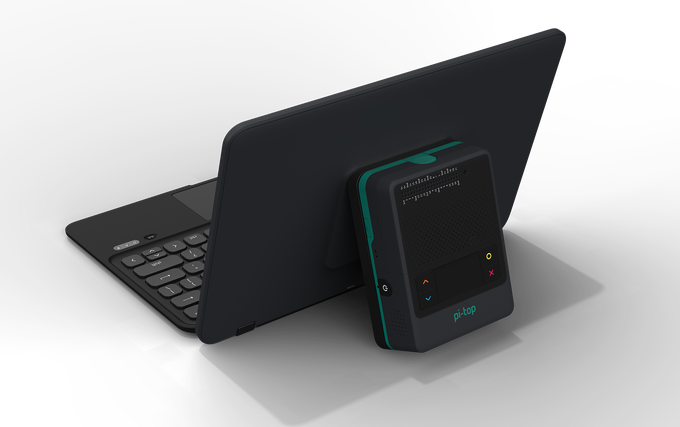 Andrew: And size, shape and form factor?
Eben: Yes, I was completely surprised by it and I think that's a good thing. It's a testament to the ecosystem doing what the ecosystem does, which is to go and explore places that we never would have imagined. When you take the base unit and dock it onto the back of the keyboard and display, you are back to a laptop configuration. Or you use it standalone, connected to a mouse and keyboard and a monitor. In all of the configurations it takes the time and complexity out of the classroom experience. I mean, I can see that device just getting everywhere, right?
Andrew: It's exciting because we think we know how it's going to be used, but the fact that you can just unplug it and use it in so many ways...
Eben: Yes! And then at the end of the day you bring it back and you plug it in and it's the brain for your laptop. On some level I'm lost in admiration for you guys for daring to do stuff with batteries. That's -
Andrew: It's mains powered too.
Eben: Yes. But you have batteries in your product.
Andrew: Yes.
Eben: There are areas of endeavour that you guys have been involved in, particularly around displays, keyboards, batteries and the like which we have not got involved in. And it's been wonderful to see an organisation do that, take on those challenges and vanquish them. And then iterate around it, not just 'hey we made a laptop, we're done now', but we made a laptop, what did we learn from making that laptop and what might we make next that isn't a laptop?
The physical computing aspects of the Pi were, for me as a software engineer, almost an unexpected bonus.

Eben Upton, Raspberry Pi CEO
Eben: People get obsessed when they think about companies, because
they think about them in terms of their products or how they make money, but what companies are really doing is they are developing capabilities and accumulating pools of options. And then occasionally they'll exercise some of those options to create a product or service which they then sell to get the money to go make more options.
Andrew: What do you think of the OLED screen on the back?
Eben: I think it's really cute. I won't be happy until someone's written Pacman for it, obviously. It's crying out for some standalone applications. I think people have a lot of success with standalone Pi, and people have a lot of success with a kitted Pi, but there's a big niche for this one. I'm looking forward to seeing where it goes. The physical computing aspects of the Pi were, for me as a software engineer, almost an unexpected bonus. I originally saw this as a PC – I didn't plug LEDs into my Amiga. I saw Raspberry Pi as a software platform but, of course, it's become increasingly a physical computing platform.
Eben: And by taking the base unit and putting it in a good enclosure and providing a good power solution and a remote GPIO Node, I did love that. That's a very fine pitch cable you've got connecting it, very flexible for something that's got basically 40 conductors going down it. I'm speculating you might have cheaped out on grounds a little bit to get it more flexible?
Andrew: No, no.
Eben: It's actually got a full complement of ground wires?! But I think it's great and I think it's got its place. I'm looking forward to seeing where it goes -Congratulations.
Andrew: Thank you very much.
Eben: Four products in four years.
Andrew: Yes, this is the big one though. It's going to be an evolutionarily leap...
Eben: That's it! You look at the trajectory of any product line and you have some evolutionary and you have some revolutionary steps. You look at Pi and you've got 1 to 1+ evolutionary. Pi 2, revolutionary. Pi 3, revolutionary, 3+evolutionary... and whatever we do next we'll end up having to be of necessity. Some of the revolutions are forced on you.
Eben: I'm interested to see which of the accessory products is the one that does the most business. Is it the drone? Is it the humanoid? Is it the laptop accessories? Or the standalone? How many people are gonna see this as a really good, rugged, plastic case with a battery in it? That alone has great value.
Andrew: If you look at most IT in schools, they already have keyboards, mice and screens. It's a cost-saving exercise for those guys. But it becoming a maker device is key. Because it just widens it out and it gets into the realm of say, costume design and stagecraft and theatre, so that it gets it off the screen and out of a room and into the environment – you can also leave it in a tree for a week!
Eben: Yes! Relevance is the key, I think, to broadening participation. There's a class of student, and I was one of them, who you can get with, "hey, we're gonna learn about IF statements"I'm one of those. And a lot of the people you're surrounded with when you work in the current tech industry are those people. Because actually it was hard even with these machines in the '80s. I think the thing is, we look back at the '80s as this amazing time, but actually a terrible time from a diversity perspective, from an accessibility perspective and a community perspective. I remember I knew one other guy who programmed computers in my whole town.
Eben: And we can make all these things better and I think an important part of that is positioning computing software and hardware as a way of solving problems that aren't just computing problems. I want to make fantastic clothes for afashion show. I want to find out what's been pooing in my garden, all of these things. And if you do that, you don't just get the 5% of kids who like IF statements. You get basically all kids who have something they care about in their lives.
Eben: All kids have something they want to do and they can't do. And if you get to them and you position this as being relevant to them, then you engage people's interest. It's not easy though. It's a lot of work to get good at anything. But that's the hope, that you can engage people's passions. Or help them through the time that it takes to get good at this stuff so that it sticks. And so they stick with it.
Eben: And what does the future look like? One good thing about the future – it's not going to happen in five years but it might happen in 10 or 20 years – is that the engineering industry will look like society, because it doesn't at the moment. Go and look round at any engineering firm; it's not a picture of society in any way. And I think that the leading indicators suggest, and some of the experience we're getting suggests, that we can turn the engineering industry into society. And that's incredibly exciting because it's such an enjoyable job. And we have to go out and give that opportunity to as many people as we can.
This was an edited and abridged extract from our podcast, We Make The Future. To hear the full interview with Eben, and find out more go to anchor.fm/pi-top