Emily Swenson is a teacher at Mabel Brasher Elementary Montessori School (Louisiana, US). She's also a pi-top champion. In this article, she tells us how she, with no prior technical knowledge, used pi-top in her school to create amazing teaching experiences.
Being a teacher at Mabel Brasher Elementary Montessori School, I thought it fitting to start with a quote from Maria Montessori herself...
"Our aim is not merely to make the child understand, and still less force him to memorise, but so to touch his imagination as to enthuse him to his inner core."
I feel like that is really appropriate because the pi-top has enthused the imagination of children that I've been with and it's a perfect place to start.
I started my teaching career with pre-K (kindergarten) and taught that for a long time, before moving to elementary. Then I took a leap of faith and went to space camp with twelve educators I'd never met before. It was the first time I'd ever met elementary teachers who were doing robotics and computer science with elementary students.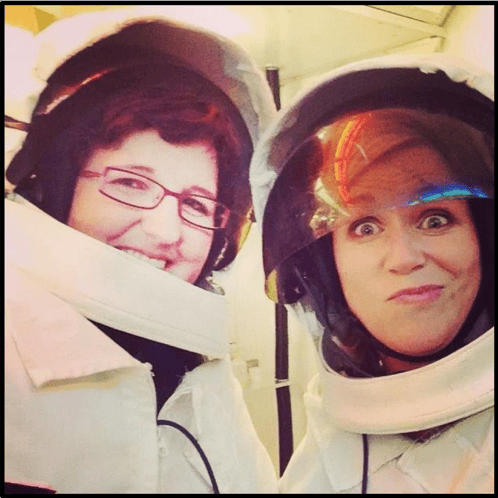 I lived where nobody was doing that, and I didn't think it was possible. I thought it was something that only junior high and high school teachers did with their students. These amazing educators opened that world for me, and I decided to become a STEM lab teacher at my school for the last three years.
We started a robotics club the very next year. I knew absolutely nothing. Literally, nothing at all, but we got a grant for underwater submersibles, and we did a lot of physical building. I got elementary students soldering and doing all kinds of things. It introduced kids to the very basics of telling a machine what to do.
But there were kids that wanted more, they didn't want just the simple things. So I started looking for other ways to expand what they learned, which then also expanded what I had to learn.
Say Hi to the Pi
A friend introduced me to Raspberry Pi – I actually thought it was a food! And he said, "No, it's a computer." So I jumped off the deep end and I went to San Francisco and I did Picademy (the Raspberry Pi certification) for two days.
They said "hey, learn Python before you come." But I didn't. I didn't read anything. I looked at it, brought a book with me the night before, but really, the point is that you don't have to be an expert to jump in and start learning with your students.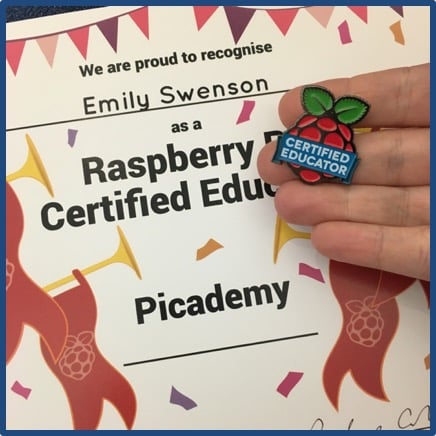 With a Raspberry Pi you have to bring all of these extra peripherals in yourself. I had to scrounge keyboards and screens, and it just makes a huge mess. I didn't have room for all that with twenty students. So I started looking around for an easier way, and I got introduced to pi-top. It's the answer to the peripherals problem because it gives you everything need.
But what it gave me also was a way to teach from a starting point of no knowledge. The programs that are in there and the curriculum that is inside of it gives me a starting point and helps me help students. And that's really what I'm for. I'm not the one that teaches them how to do it, I show them where to go look for it, and then they figure it out with me. We do it together.
I'm not the one that teaches them how to do it, I show them where to go and look for it, and then they figure it out with me. We do it together.
Coding camp
I then ran a coding camp, with ages from fourth grade through to high school. We didn't know how it was going to go with fourth graders and seniors in the same room. But it actually went really well. We all sat around this table and started exploring.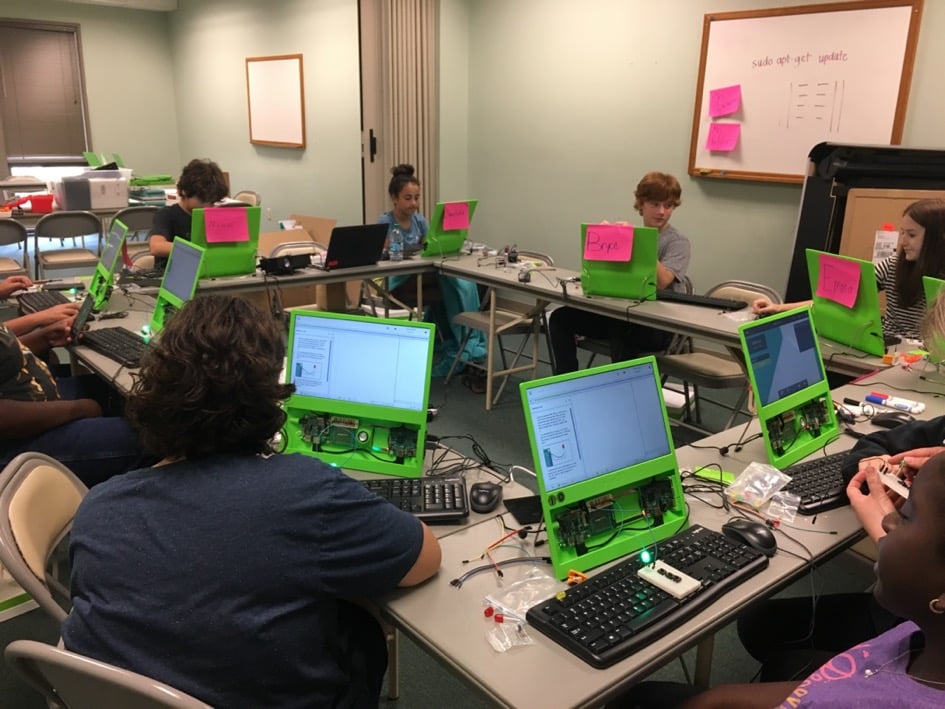 We did the first couple of lessons and projects that are in there for turning on the LED light, but we just decided to dive in and be experiential. We just jumped in. Some of them worked together, some of them worked alone – the beauty of that is they can pick and choose how they want to work. They can start by themselves, and then they discover that they don't know all the answers, that they can't find it all, and two heads are always better than one. Three or four, usually better than two!
The really great thing about pi-tops to me is the variety of languages that are available on here for them to learn and explore with. So those kids that are very 'artsy' and don't consider computers to be their strength found a way in this to do something different. I had a couple of really musical girls who decided they wanted to create their own music or learn how to create their own music, and here it is:
[youtube https://www.youtube.com/watch?v=gBMyZyjgziM&w=560&h=315]
So, as you can see she put a lot of work into that, and it took her a while to put that together. A musician would be like "yeah, that doesn't sound like the song," but she knew the timing was off and she also knew how to figure out how to fix that later, and she did. She took this home and she fixed it later and came back and showed it to me. She then went to a couple of my other younger students and helped them create their own music. They took some of what was already in there and then they just remixed it for their own taste.
[youtube https://www.youtube.com/watch?v=bMAxcueivjo&w=560&h=315]
Elementary students don't often have this available to them. They know what devices are, they know how to play games, but they don't understand typically how those were created, or what makes them work. This teaches them how to make things, and how to make things work. It teaches them about the digital world that they live in.
Be ok with not being the expert in the room
You do have to play with it yourself when you jump in, but that's what pi-top makes so easy. You can jump in and read the directions for yourself to learn the very basics, but when you hand it to them, they're going to figure out more than you, so you really have to be ok with not being the total expert in the room. And that's hard for teachers sometimes, it was really hard for me at first. I want to be able to give them the answers, but when you don't have all the answers, it's easy not to have to give them too. They can figure it out.
Teach them how to search
Also, teach them how to search. So, my students were able to go and find the answer to their problems by being able to search, that's a skill that elementary students don't start with. They don't have that at first. They know how to Google, but what does that do? You have to teach them how to find good resources and know where to go to find those resources that are actually going to be beneficial for them.
Let them follow their passions
But also allow them to follow their passion. If they're interested in music, let them follow the music. If they love Minecraft, then let them do the things in Minecraft that turn them on. They love it. If they want to make something, make an arcade game, if they want to create something outside of the box that you haven't thought of before, let them. Let them figure it out. Help them and be there to support them – that's how I've implemented this in the elementary classroom.
This article is an abridged transcript of a presentation given at ISTE2018. Emily Swenson is a teacher at Mabel Brasher Elementary Montessori School (Louisiana, US). She's also a pi-top champion.

If you'd like to find out more about how 'learning by making' with pi-top can help you, your students and your school, get in touch here.