Since 1976, every U.S. president has officially designated the month of February as Black History Month: a time when the nation pauses to reflect and honor the achievements and sacrifices of African Americans and their contributions to US history.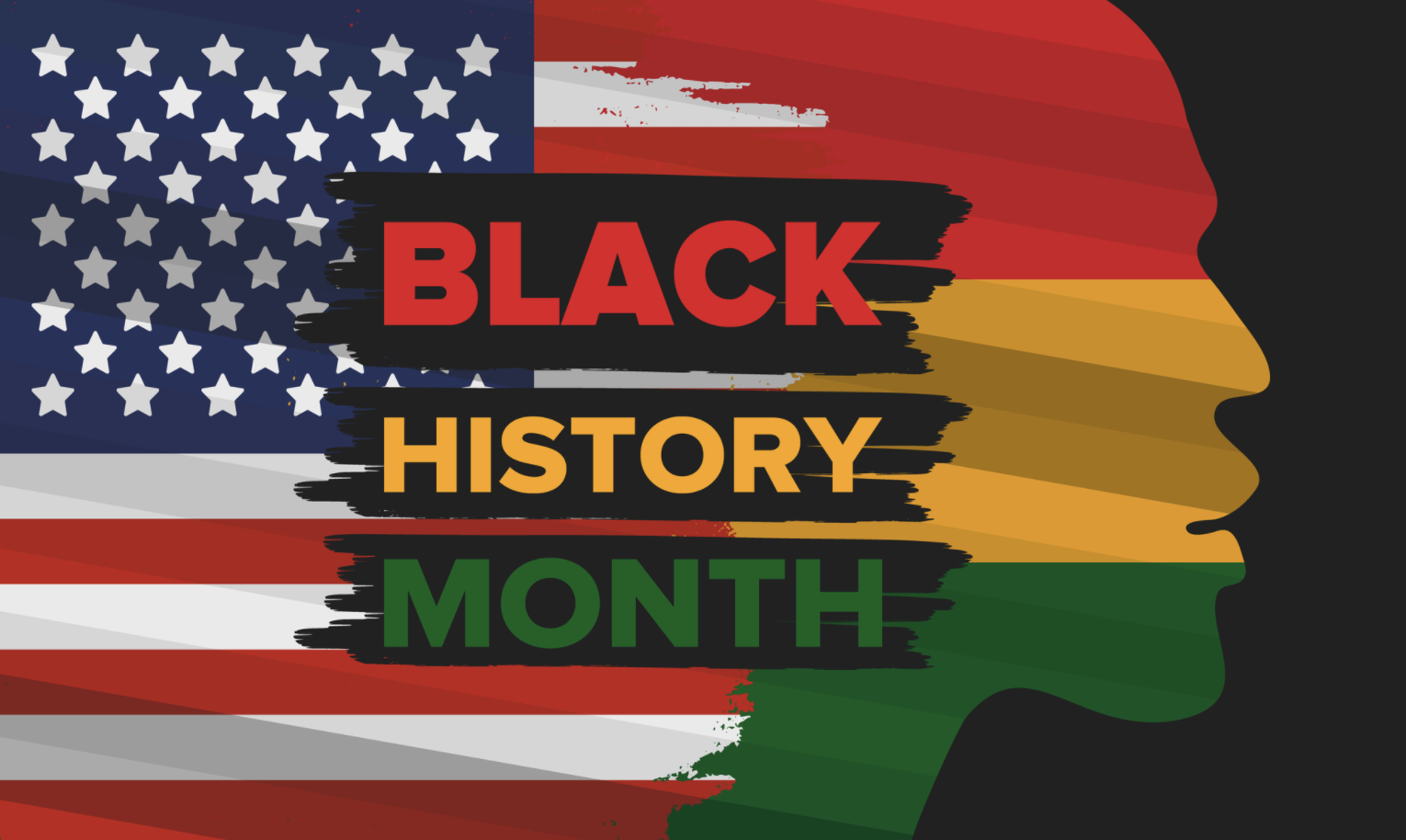 BHM's aims are particularly relevant within our field of STEM education.
1. Because education is fundamental to enacting change within our society. As Benjamin Franklin once said, "the only thing that is more expensive than education is ignorance."
2. And, sadly, because STEM occupations continue to be shrouded in inequality. According to the Pew Research Center, just 9% of STEM workers in the U.S are Black.
So, the question must be: how do we change that?
It's a multifaceted challenge deeply rooted in many different societal issues. The same study by the Pew Research Center suggests that "one potential barrier for those wishing to enter the STEM workforce is the generally higher level of educational attainment required for such positions," suggesting the drawback for many ethnic minorities starts in their school years.
When Black students are unable to see themselves reflected in key STEM roles, they are subconsciously told that those spaces are not there for them.
We, therefore, need to galvanize young Black students into studying STEM subjects at school, help them find their passion for those subjects and so that they may then, hopefully, go on to improve diversity in the STEM workforce.
The first step in that process?
Improving representation in STEM industries. When Black students are unable to see themselves reflected in key STEM roles, they are subconsciously told that those spaces are not there for them and are thus more likely to be disengaged from learning those subjects at school.
But the fact is, STEM is for everybody. Ultimately, poor representation in the field is not down to a lack of incredible Black people making waves in the industry, but rather due to a climate that chooses to hide them in the background.
That is until recently. Introducing...
An incredible movie based on a book by the same name, Hidden Figures follows the stories of three African American women whose work at NASA was instrumental to the success of the space race.
Did you know that Black women worked at NASA during the space race? From 1943 there was a whole department of Black women working as human computers, responsible for performing complex calculations for the space program.
Pharrell Williams, who co-produced the movie, noted that the story of these women has "been around for at least 50 years. It's an amazing story but the idea that it was actually true was mind-blowing."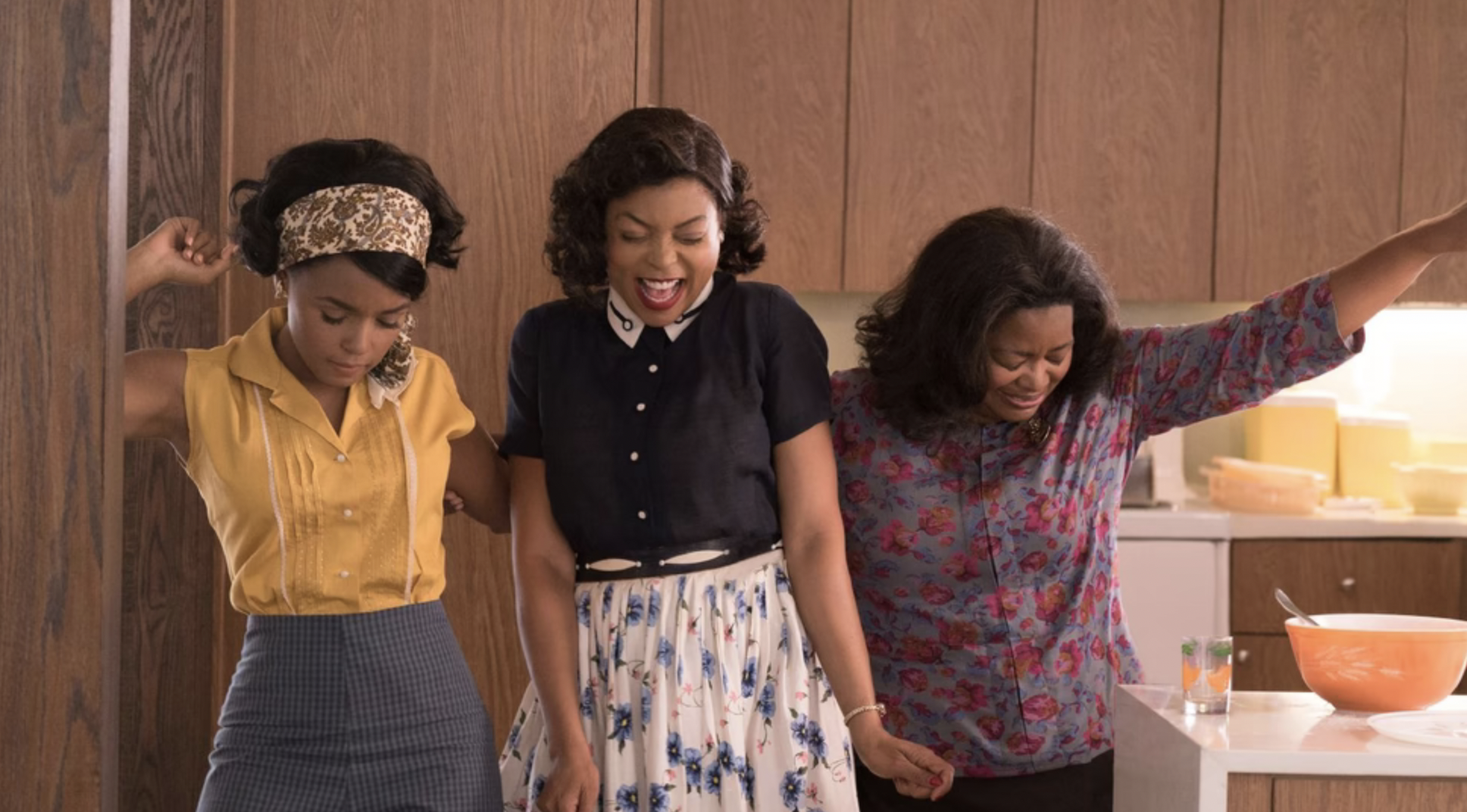 Mary Jackson (Janelle Monáe), Katherine Johnson (Taraji P. Henson) and Dorothy Vaughan (Octavia Spencer) in Hidden Figures.
In other words, this movie isn't a product of Hollywood's wishful thinking. Three amazing women; Katherine Johnson (1918-2020), Mary Jackson (1921-2005) and Dorothy Vaughan (1910-2008), were indeed instrumental to NASA's success in the 20th century and their story, as told in Hidden Figures, hopes to bring them out of the shadows.
I simply cannot recommend this movie to you enough dear readers! Play it in school for your students. Sit and watch it with your kids at home. Or simply watch it for yourself, so you can fully appreciate a kind of story that has been underrepresented in our history books
In the meantime, and in honor of Black History Month, here are

6 lessons we can learn from Hidden Figures:
1. We Are Stronger Together
A common theme throughout Hidden Figures is the conclusion that we are stronger together. People from all walks of life come together at NASA, all highly intelligent and ready to work hard, all with the shared goal of winning the space race.
The film highlights NASA's relative tolerance for the time, seemingly out of necessity more than anything. When Katherine Johnson asked to be present in an important meeting regarding the space program, Paul Stafford (a fictional character designed to embody the racist attitudes held by many Americans at the time) responds that "there's no protocol for women attending."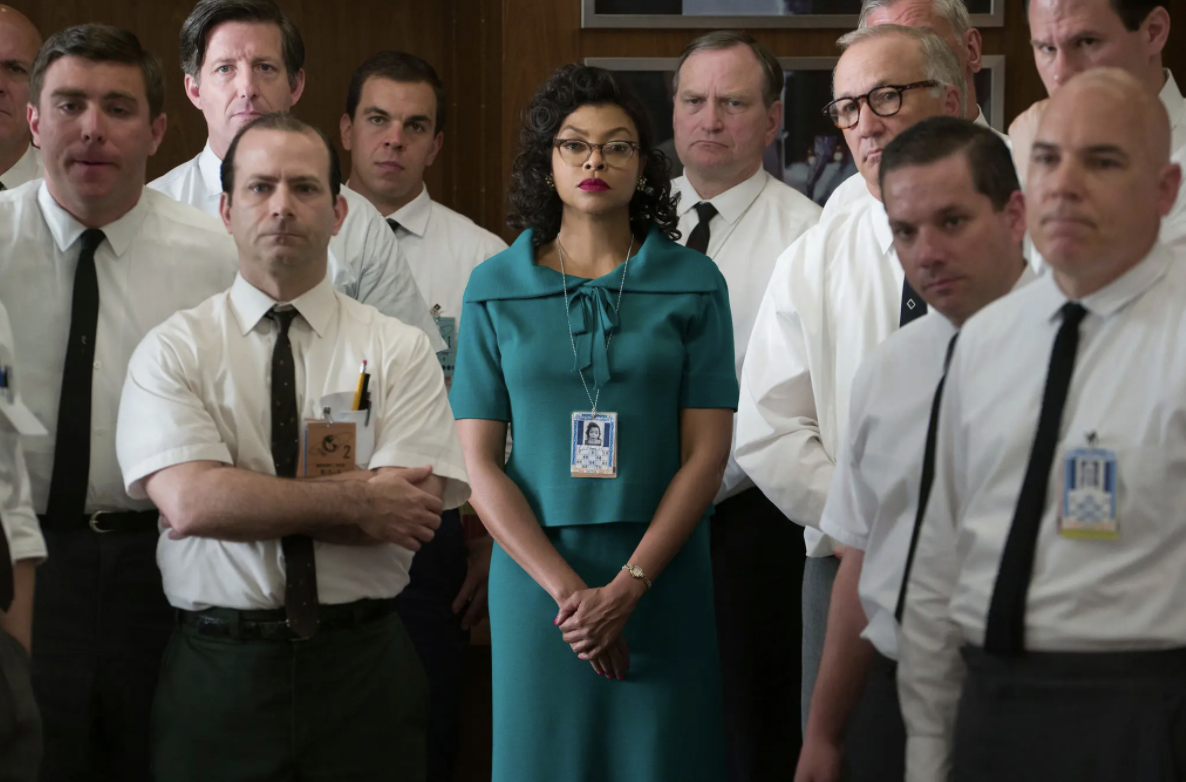 Taraji P. Henson portrays Katherine Johnson in Hidden Figures.
In one of her many clever comebacks, Katherine tells him "there's no protocol for a man circling Earth either, sir." And thus, Katherine was the first woman to be given access to briefings at NASA.
By giving her a seat at the table, Katherine was able to master the mathematics required to calculate the launch and landings for many key missions, including ​​the 1962 orbital mission of John Glenn.
2. Segregation Was Truly Absurd
We are shown Katherine Johnson's brilliance early on in the movie as her intellect propels her through mainstream education. Her teacher tells her parents: "in all my years of teaching, I have never seen a mind like your daughter has… You have to see what she becomes."
The filmmakers used this flashback to juxtapose the future treatment of Katherine as a Black woman at NASA living under segregation, making a firm statement against the racial prejudice that was deeply woven into American society in this period.
We see Katherine running across NASA's campus, at times in the rain, to use the "colored bathroom", taking hours out of her workday. The absurdity of racial segregation is presented to us. How can this incredible woman with such a brilliant mind for mathematics, be treated so awfully - just because of the color of her skin?
The movie champions racial equality as Katherine's manager, Al Harrison, tears down the "colored bathroom" sign, announcing: "Here at NASA, we all pee the same color."
Al Harrison tears down the "coloured bathroom" sign.
3. Look Beyond the History Books
Did you know an African American woman was fundamental to the success of the space race? Without films like Hidden Figures, you probably would not.
The story of Hidden Figures is just one example of our selective retelling of history. Just as Katherine had to look beyond the numbers to solve NASA's problems, we must look beyond the history books and embrace the key Black figures in our history whose work often goes unseen.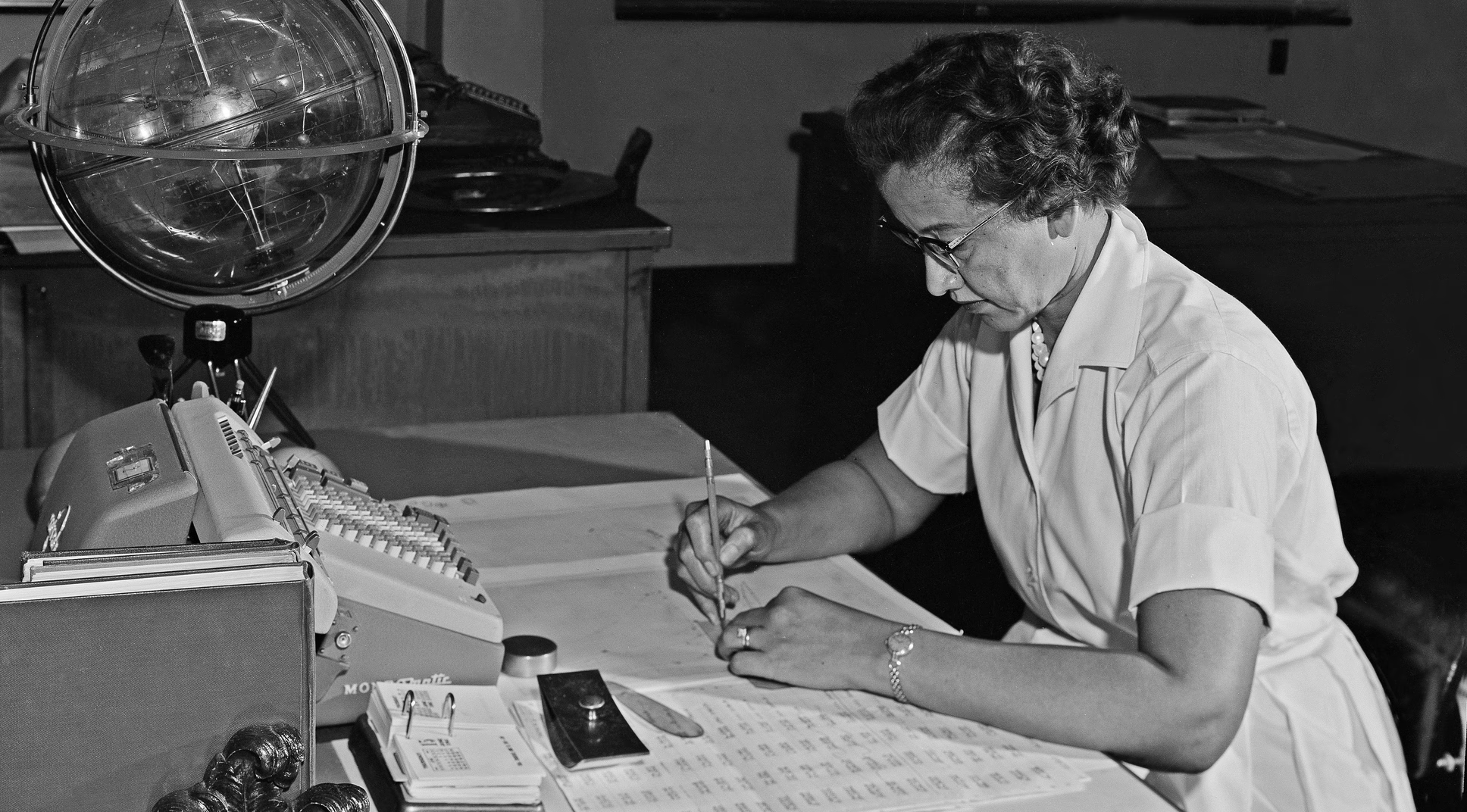 The real Katherine Johnson working at NASA.
4. You Cannot Make Anything Possible without First Doing the Impossible
Mary Jackson wanted to be an engineer. She had the same degree as most of the white male engineers but this was not enough to enable her, as a Black woman, to become one herself.
Her boss, Mr Zielinski, asks Mary why she had not yet become an engineer, given her "engineer's mind". She tells him as a black woman, that would be impossible, to which he responds: "I'm a Polish Jew whose parents died in a Nazi prison camp. Now I'm standing underneath a space ship that's going to carry an astronaut to the stars. I think we can say we are living the impossible."
So, she petitioned the court and got into an all-white school for after-hours classes. As a segregated school, this was completely unheard of. Not only was she the first African American person to attend this school but, once she gained the extra qualification she needed, Mary Jackson was the first African American female engineer at NASA.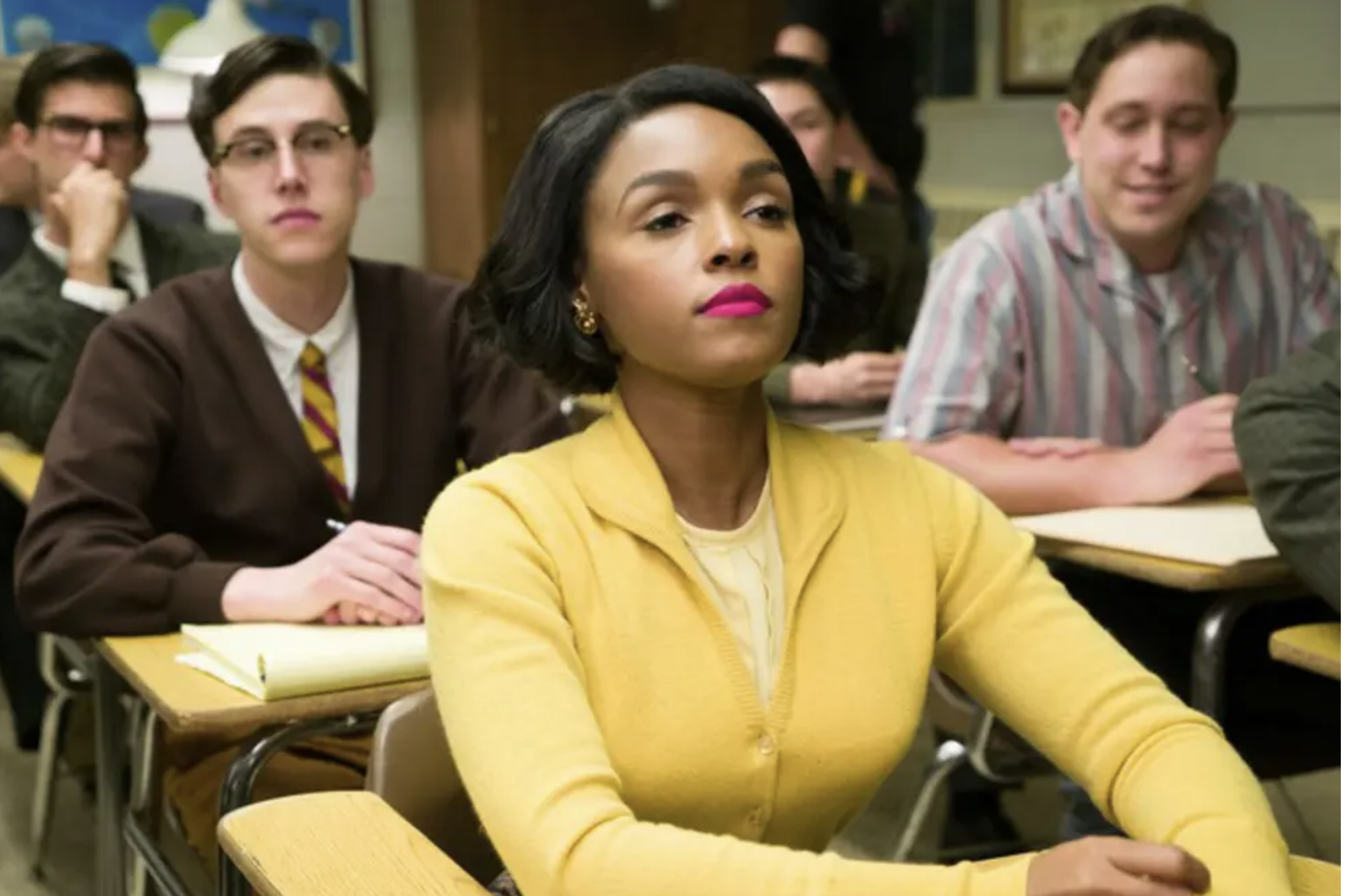 Mary Jackson played by Janelle Monáe in her after-hours school.
5. Diversity and Inclusion Are Critical for Development in STEM Fields!
Computerscience.org observed that companies with greater diversity actually earn higher revenue. They concluded that "when diverse groups of people attempt to solve a problem, they bring different ideas and opinions to the table. Diverse groups tend to perform the strongest in problem-solving situations. In contrast, working within homogeneous groups can hinder perspective sharing and innovation."
Without the team at NASA working together, each bringing their varied experiences, education and characteristics to the table, Hidden Figures suggests the outcome of the space race may have been very different.
6. Katherine Johnson Was Awesome
It is hard to hear Katherine Johnson's story or encounter her magnetic personality in video interviews and not be left with an overwhelming sense of awe at such an extraordinary person. She was truly awesome.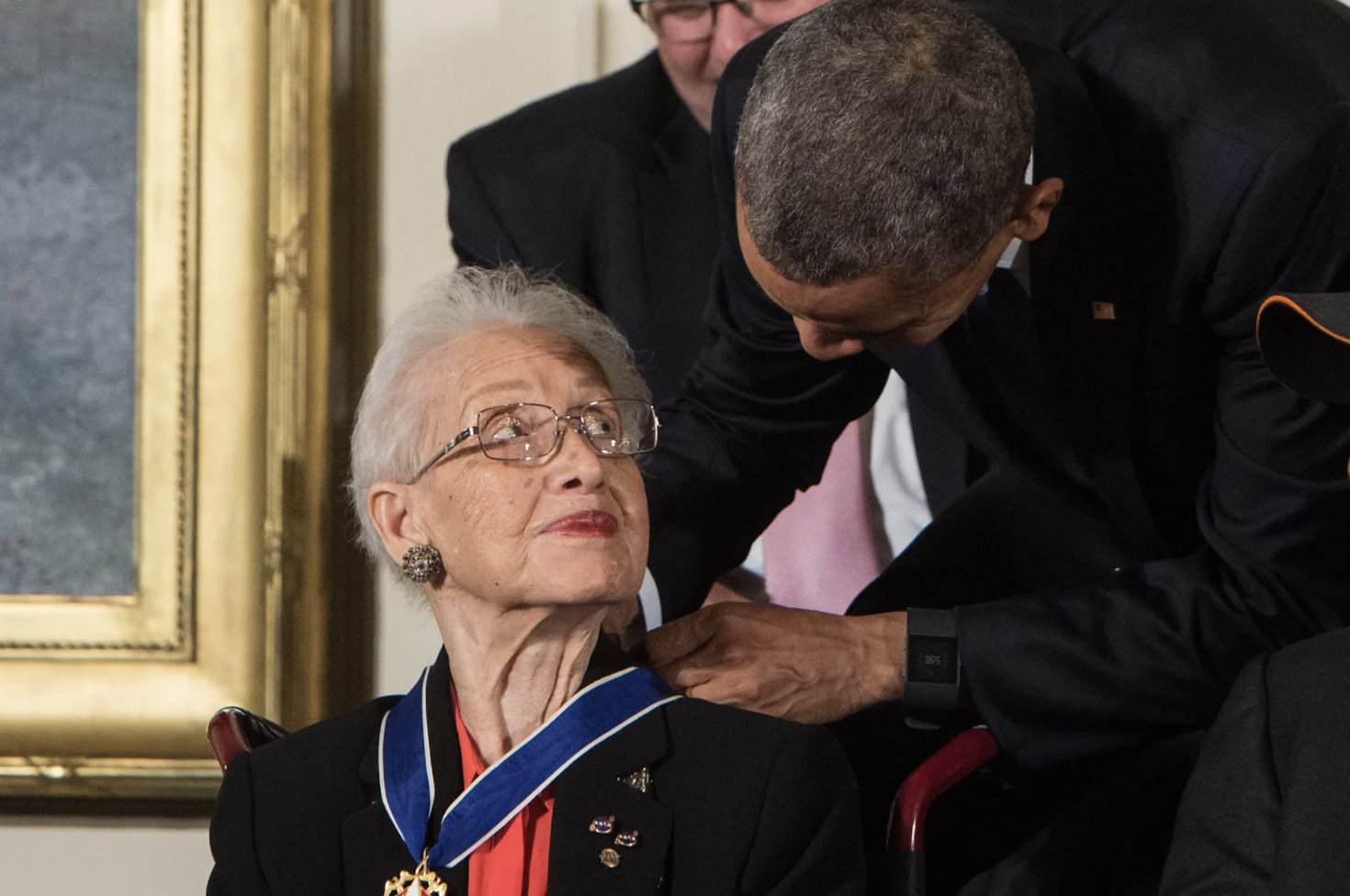 Katherine Johnson received the Presidential Medal of Freedom from President Barack Obama in 2015.
Hidden Figures propelled her story onto our screens in the hope that more people could learn about Katherine and her incredible work and take inspiration from her courageousness.
Share her story with your students, watch Hidden Figures, and see Katherine Johnson's contagious zest for mathematics inspire another generation of young scientists.