Hello March, hello weekend! Welcome back to another week of 'what we've been reading', our weekly round-up with the best education, making and learning stories that you should know about.
---
Automatic dog petter
Matt Thompson of Thompson Woodworking created the ultimate dog petting apparatus.
---
We Make The Future: Scratch, education and making

In the latest episode of our podcast, we explore the world of the visual programming language Scratch. Karen Brennan, who works with the Scratch Education team, tells us why making and coding are so important for students, and crucially, what support the education community can offer itself.
---
The value of tinkering
Tinkering is not a word that many educators use, and for good reason: parents and administrators have come to expect us to use certain educational buzzwords when discussing our strategies, approaches, lessons, concepts or skills that are to be taught. To an elementary teacher, there seems to be a steady push to engage students at a younger and younger age with more structured and teacher-driven processes, and so I am increasingly worried about their lack of unstructured time. Between busy home lives and schools that expect more of children at younger ages, students are not given the chance to just tinker.

Elementary school science teacher, Aaron Schomburg, wrote this brilliant article to urge parents and educators to consider giving young children the opportunity and time to help establish a foundation of creativity and imagination.
---
Why is it so hard to learn about learning?
In this talk, Dr William Rankin, Founder of Unfold Learning and former Director of Learning & Research at pi-top, shares a brief history of indoor lighting and how that connects to the future of education.
---
The unlikely champion for testing kids around the world on empathy and creativity
What we know is that the kinds of things that are easy to teach, and maybe easy to test, are precisely the kinds of things that are easy to digitize and to automate. The advent of AI should push us to think harder of what makes us human.

Andreas Schleicher
Andreas Schleicher is a German data scientist and the head of the education division at the Organisation for Economic Cooperation and Development (OECD). He oversees The Programme for International Student Assessment (PISA), a test now taken by 500,000 kids in 79 countries every three years.

For more than two decades, he has fixated on what skills tests can accurately assess, and what skills we want to measure in the first place, but that has changed drastically over the years.
---
How schools spark excitement for learning with role-playing and games
When I choose to use role-play as a means of teaching, it is because it is an excellent way of organizing teaching, not because the hobby appeals to its fans. In the 21st century, being a teacher is not about teaching pupils facts, it is about helping them internalize knowledge, skills, and competencies.

Sanne Harder, a game designer and educator who worked at the Østerskov School
The use of simulations and role-play in education is not a recent development might not be something new, but it's becoming increasingly popular, and edularps (education live action roleplaying) can be found in schools in Sweden, Finland and Denmark, and even some in the US.
---
10 breakthrough technologies 2019, curated by Bill Gates
MIT Technology Review asked Bill Gates to choose this year's list of inventions that will change the world for the better. " I wanted to choose things that not only will create headlines in 2019 but captured this moment in technological history—which got me thinking about how innovation has evolved over time," says Gates. These are his 10 predictions.
---
pi-top: inspiring a generation of makers – NAPE 017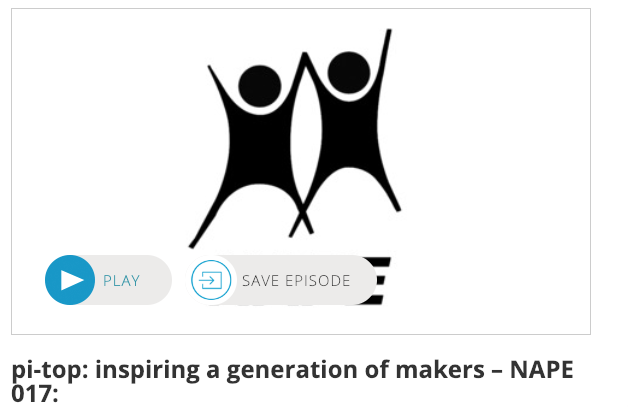 The National Association for Primary Education recently interviewed our very own Stuart Swann for their podcast. Check it out to find out more about pi-top and how we are empowering learners to thrive in a rapidly changing world.
---
How fast does glass crack?
Gav and Dan, aka the Slow Mo Guys, try to find out how fast 5 millimetre tempered glass cracks. *WARNING: This video contains some pretty stunning shots.*
---
Vast amounts of data about our children are being harvested and stored via apps used by schools
We do not fully understand yet what all the implications of this is going to be when they are adults. Sensitive information about a child could find its way into their data profile and used to make highly significant decisions about them, e.g. whether they are offered a job, insurance or credit



Electronic data is increasingly being collected in our schools without people being fully aware of what is happening. A recent report published by the UK Children's Commissioner highlights the potential consequences for children.
---
London state school to introduce four-and-a-half day week to make teachers happier
It is hoped that the four-and-a-half day week will help lift the burden on increasingly overworked teachers and will reduce the negative effects of the recruitment and retention crisis in the sector.
Looks like the education world is changing, and this a great example of it. Pupils and teachers at Forest Gate Community School, a secondary school in Newham, will be allowed to leave just after midday every Friday from September, parents have been told.
---
Want to read more? Check our previous 'best of the web' reading list.