Bett 2019 highlighted a continuing and worrying trend – far too many 'EdTech' companies focusing on the Tech rather than the Ed.
Walking around Bett we couldn't help but be gobsmacked; from 'what were you thinking?' products to 'have you even spoken to a teacher about this?' software to bonkers booth designs. Here then, are our tongue in cheek 'ugly Betty' awards.
The Google stand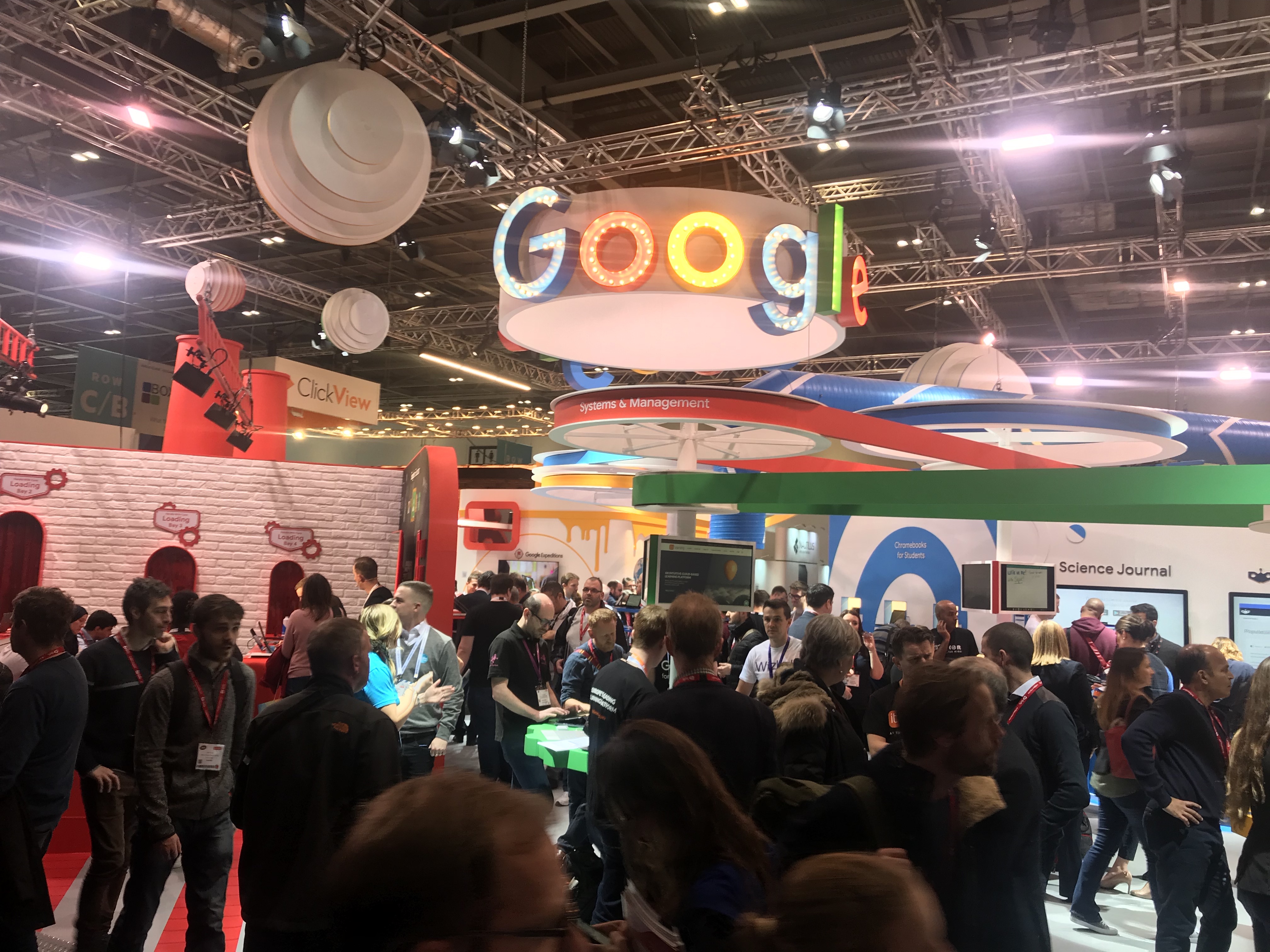 Someone at Google thought a 'school-as-a-factory, kids-as-the-product' design was a good idea. Think Willy Wonka meets Pink Floyd on ecstasy.
BlackBerry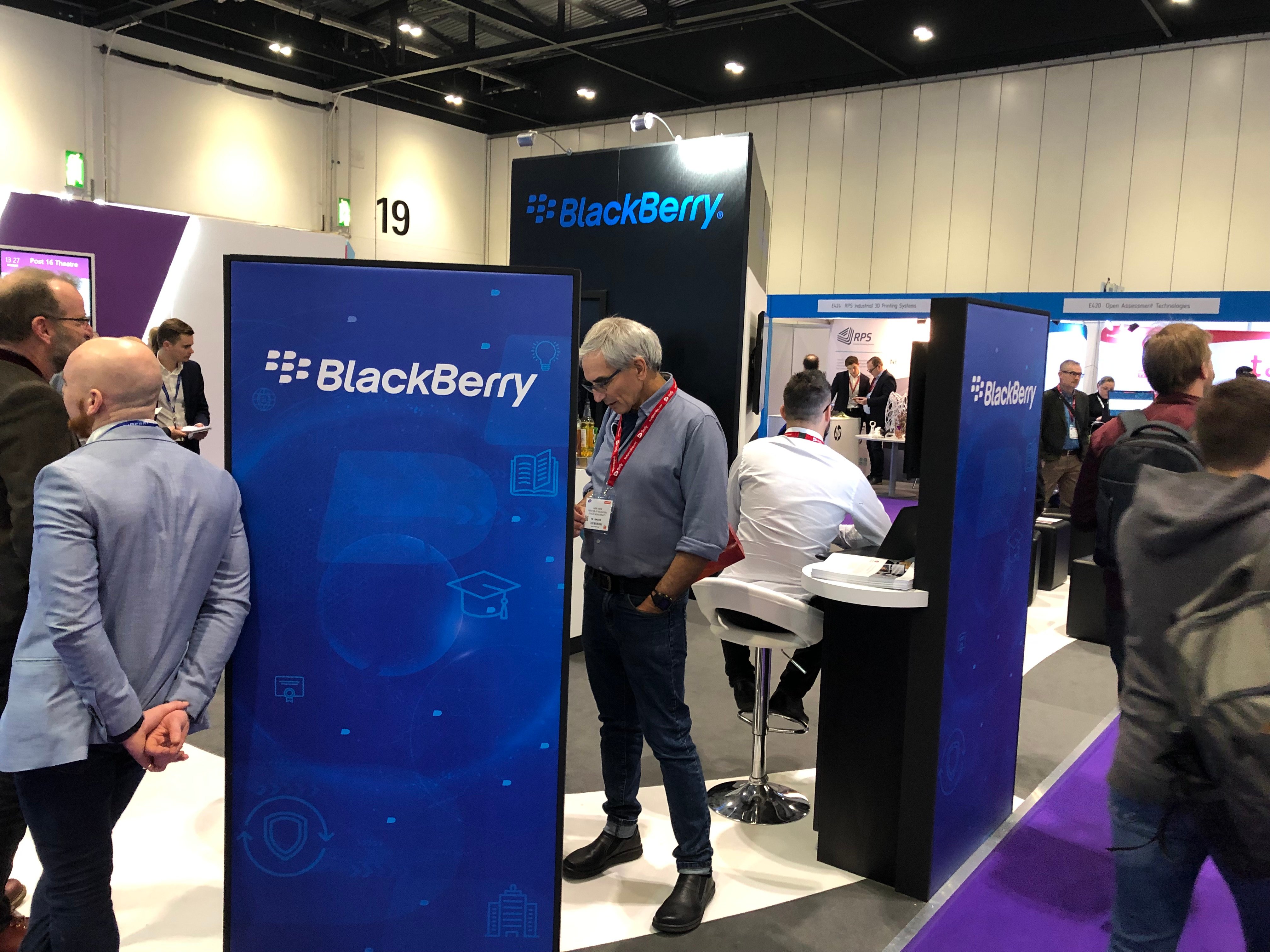 Seriously? We couldn't believe they were there either.
Running out of STEAM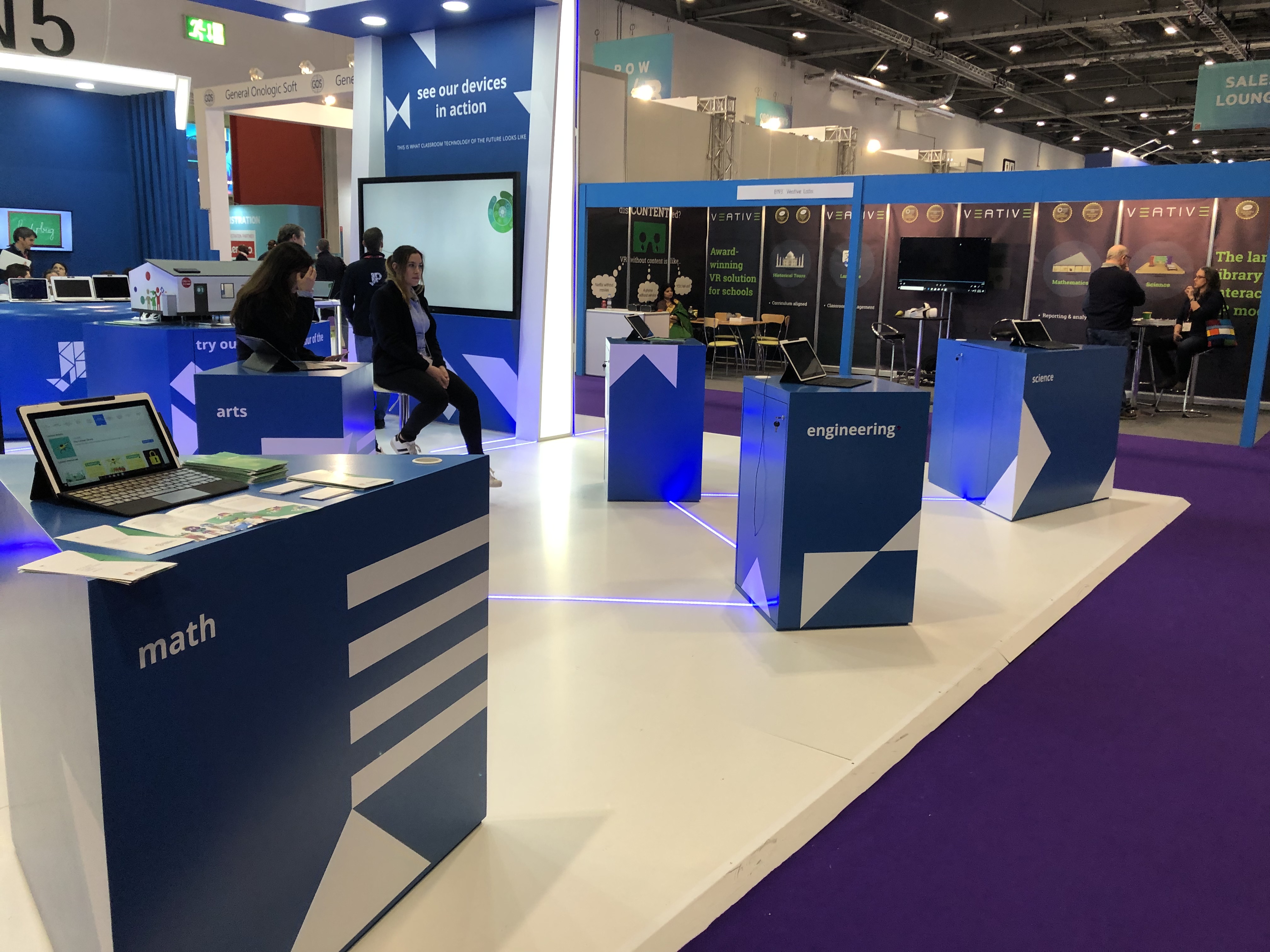 No one seems to have told this stand that STEAM is interdisciplinary, not segmented siloed subjects on different plinths.
Ready Student One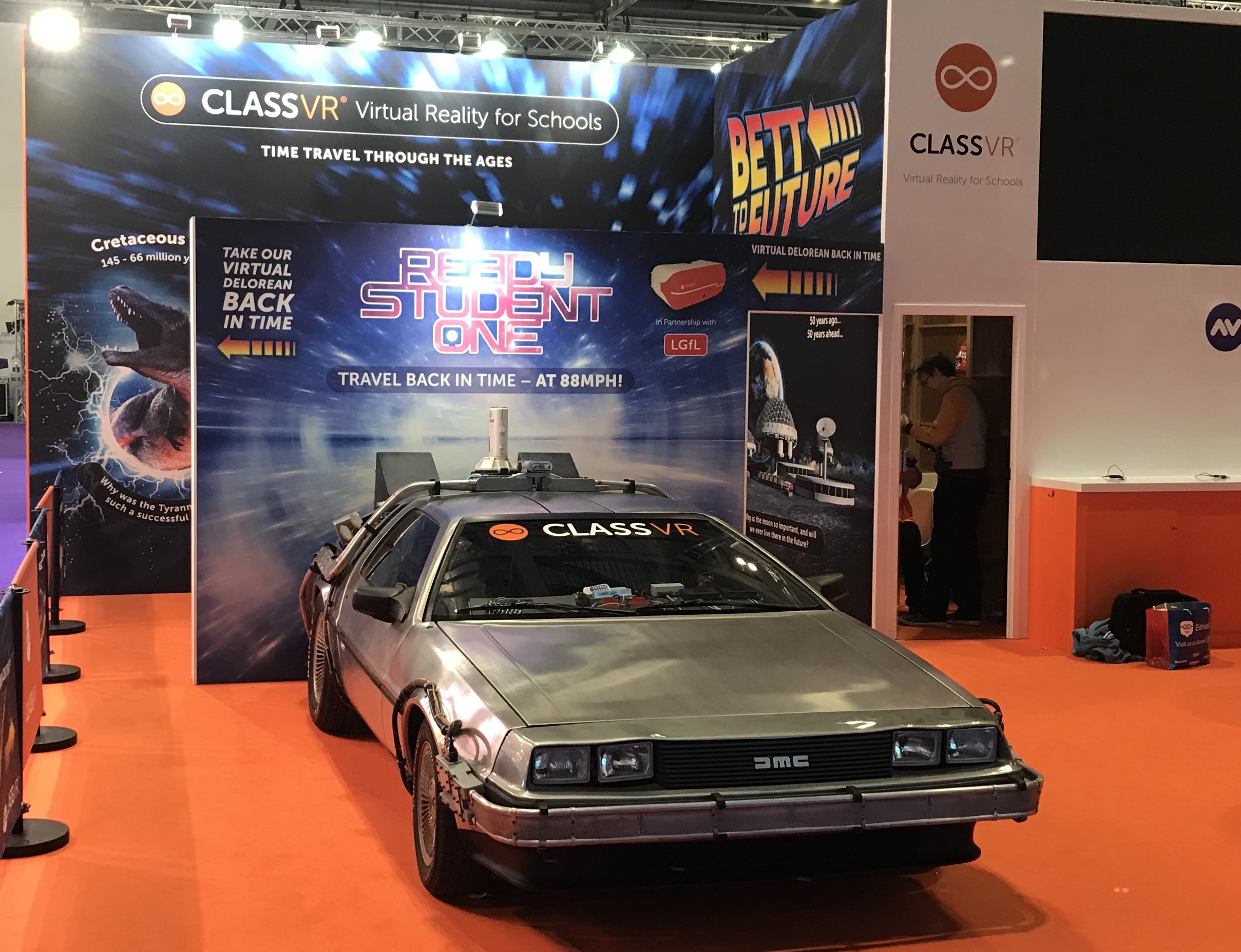 It's 27 years since The Lawnmower Man, yet there are still companies that think strapping screens to kids faces and have them sat down looking at CGI is a good thing. Some of the founders of these companies probably weren't even born when VR was first touted as the 'The Future Of Learning' back in the mid 80s.
VR's had nearly 30 years to deliver on that promise and yet somehow never quite does. Why? Ask yourself this. What are the skills children use when watching at a CGI render of Mars, or actually being in a team building something physical that could one day go to Mars? But never mind the learning, look, a DeLorean!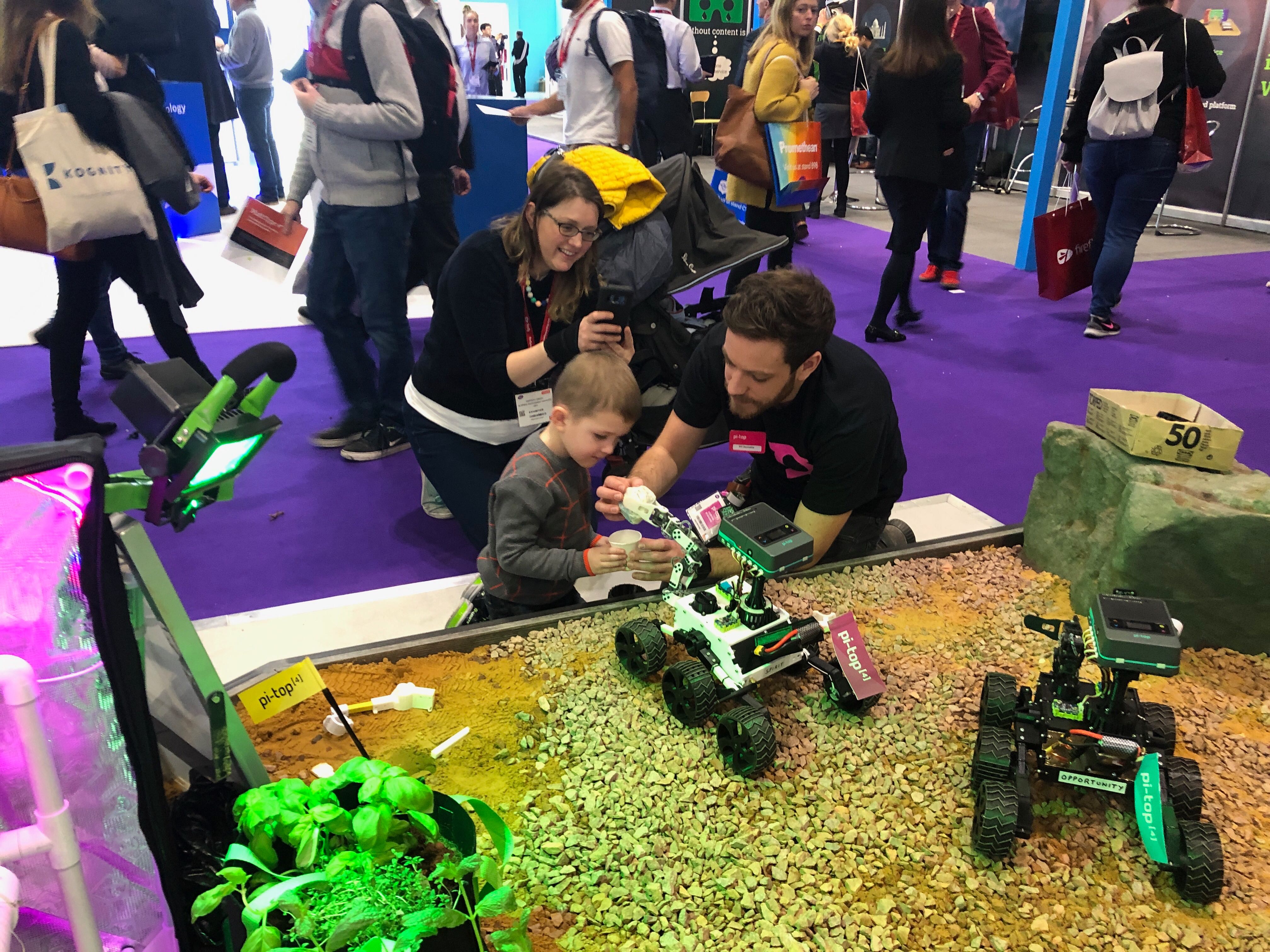 AI, AI, oh...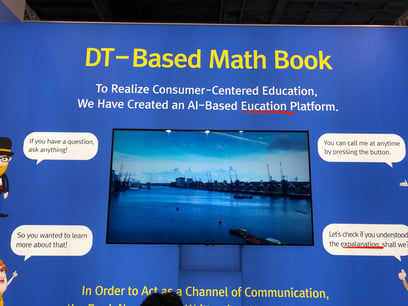 But wait, what's this? Move over VR, there's a new underwhelming, over-promising technology in town! Yes following on from last year's Herculean efforts, AI was once again everywhere at Bett 2019. Worst offender this year goes to General Onological Soft Corp. Here's one pi-topper's experience of using their product, "it's so bad, you have to talk to this 'AI tutor' which doesn't work, then the help menus bring up random Thai dashcam videos."
Microsoft
Boring and blue, Microsoft tried to shake things up a bit this year with…an AI-powered juice bar, as well as faster, easier means of assessment ‍♀️.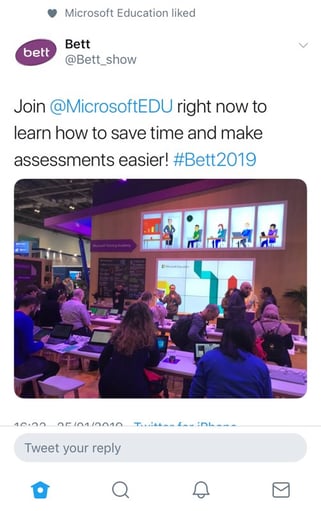 And the worst talk award goes to...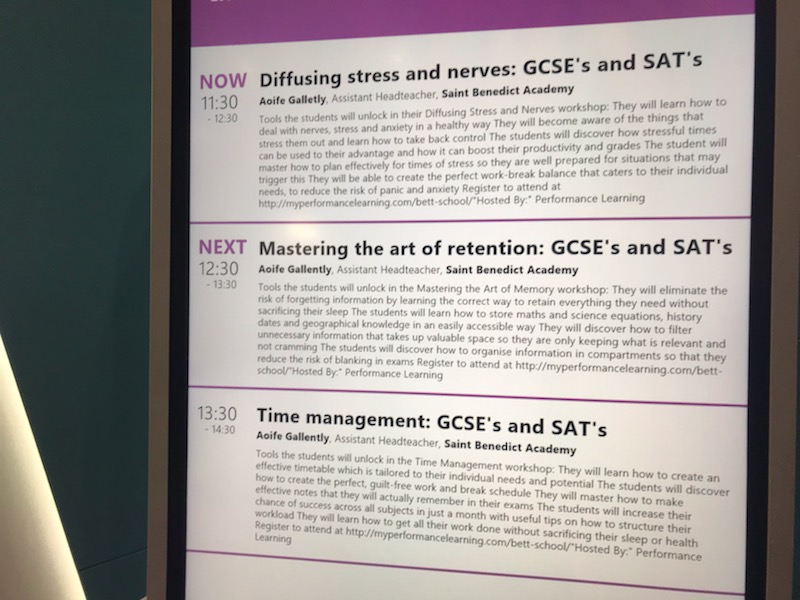 In a hotly contested field, "Mastering the Art of Retention" stood out as a clear winner. Designed to train kids to compete with information retrieving machines with lines such as "students will learn how to store maths and science equations, history dates and geographical knowledge".
Why this matters
To a child or newly qualified teacher, much on display Bett looks like innovation, but really it's not. pi-top's Graham Brown-Martin attended the first BETT in 1985, where vendors were promising – yes you've guessed it – future education systems built around VR, AI, computer learning, sensors and robots.
In EdTech in general, too many companies are looking to rip off unsuspecting schools and naive teachers with snake oil educational promises, and quite frankly, that makes us mad.
Too many companies offer poorly designed, expensive products that aren't good enough for a consumer or business market so they thought, 'what the Hell, let's try education'.
Too many companies offer closed, proprietary products that don't work or connect with anything else, locking teachers into kit they don't need and that they can't integrate with their existing resources.
And too many companies offer robots that are little more than toys, rather than tools to understand a range of subjects from puppetry to biology. And yes, we had a robot on our stand, but we made it, and haven't built our whole company around it.
We weren't the only ones left unimpressed by much on display there either.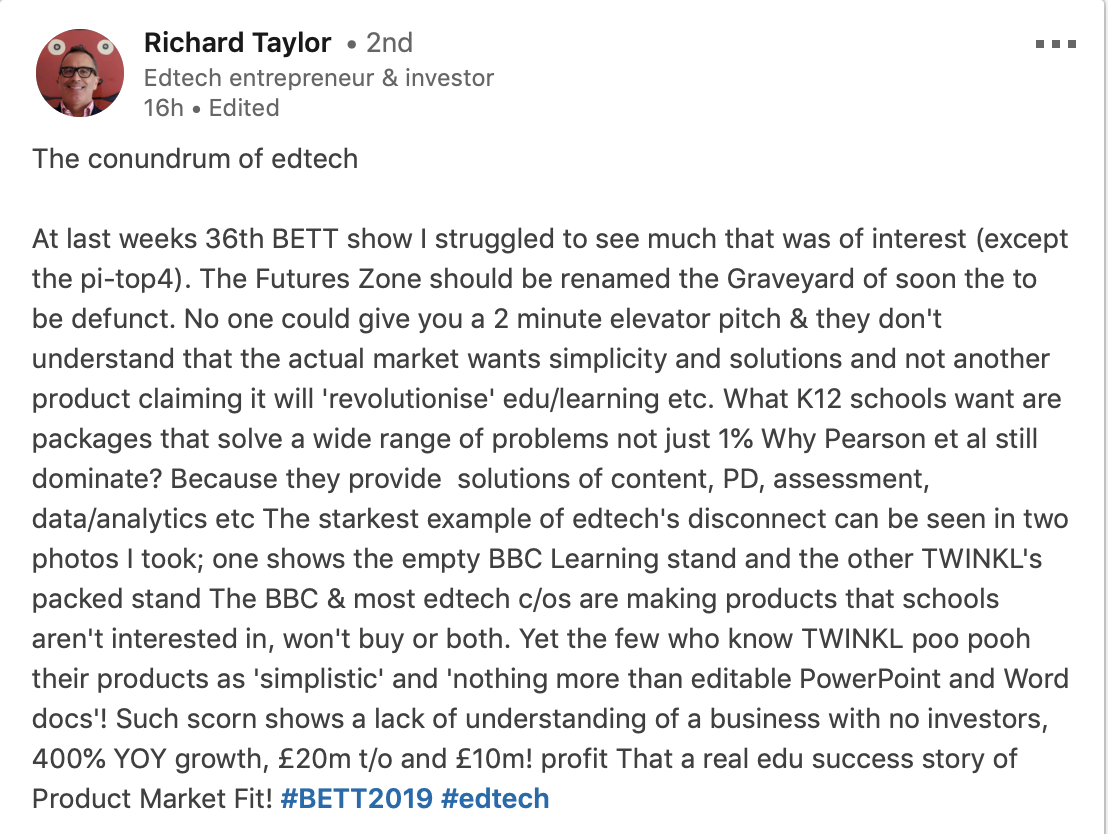 It's all about the money
But EdTech's booming right? Well yes, but not necessarily in a good way. EdTech today isn't really using technology to reimagine what education can be. At best it's just education using new devices. But at its worst, it's using technologies to reinforce the reductive standardisation of teaching and learning, with the ultimate aim of 'teacher-proofing' content distribution and testing.
How do we know this is happening? Audrey Watters sums it up thus – follow the money. $4.46 billion invested in 2018, 187 investment deals, numerous mergers and acquisitions. But worse is the type of company being backed by all this venture capital and investment.
Many of the most heavily-funded companies have products in what Watters calls the 'tutoring space', which means a more technological means of preparing students for tests. That is not the future of learning we want, or we need.
These 'tutoring software' investments and the investment arms of the status quo companies, (i.e. text book and measurement companies) have a vested interest in EdTech not disrupting their centuries old business models. So what looks like progress and change, is in many cases 21st Century technology reinforcing 19th Century educational practices. Practices from a time when we actually wanted humans to behave like robots to move goods, remember things and compute numbers. But we don't need that now.
Funding cuts
Of course, the really sad things is all this is happening against a backdrop of funding cuts for nearly every school. In the UK there have been significant cuts to spending per student since 2010 [source]. Meanwhile, one in six schools have been driven to ask parents for financial contributions to help with funding. [source]. And US teachers work two jobs to make ends meet.
So you don't need us to tell you that what financial resources schools do have are precious. They must be spent wisely on products and services that actually work, are useful in the classroom, and crucially, are backed up by sound educational research and practice.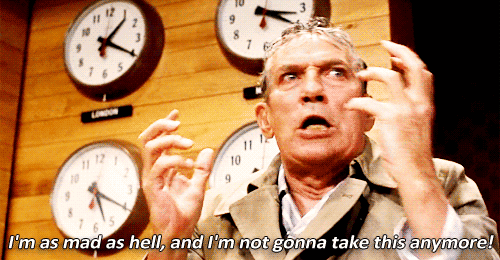 And that's what we have at pi-top, not only great designers and engineers, but around 15% of staff in the company are in our dedicated learning team. That's why we're going to change things, That's why we're going to call out rubbish EdTech when we see it, because we don't want schools to waste another penny. That, fundamentally, is why we're mad as hell at the status quo and are not going to take it anymore. If you're with us, great, welcome aboard. If you hate us, well, then you ain't us.
There is hope
But back to Bett. It's not their fault that as a sector, EdTech is lacking true innovation, they're just trying to put on a successful trade show. And it wasn't all bad. In fact, we met loads of really cool people that came to our stand and understood our mission. Teachers like Rob Houben from the Agora College in Roermond, who is doing amazing things in thinking about what the future of school, education, and teaching could actually look like.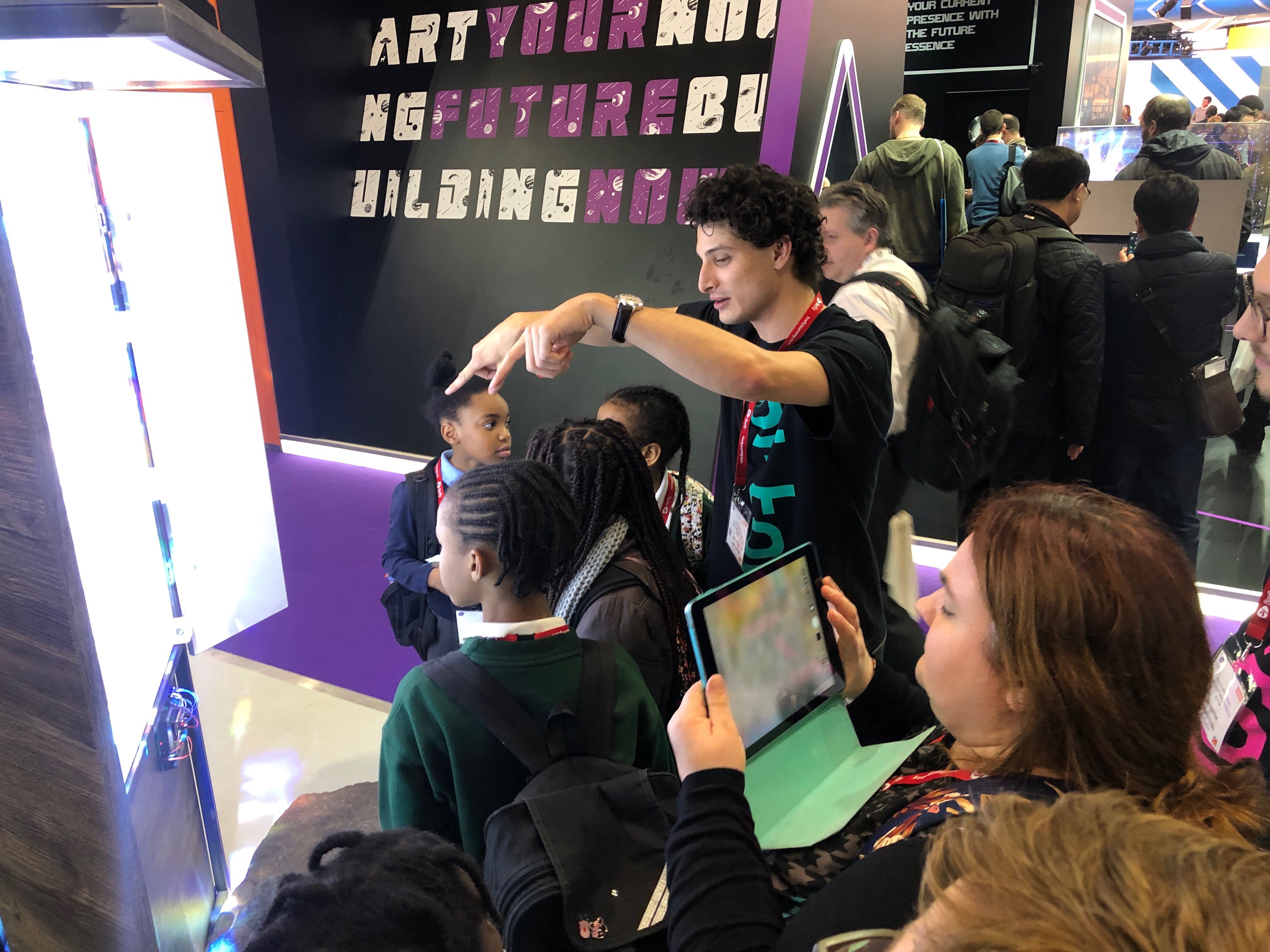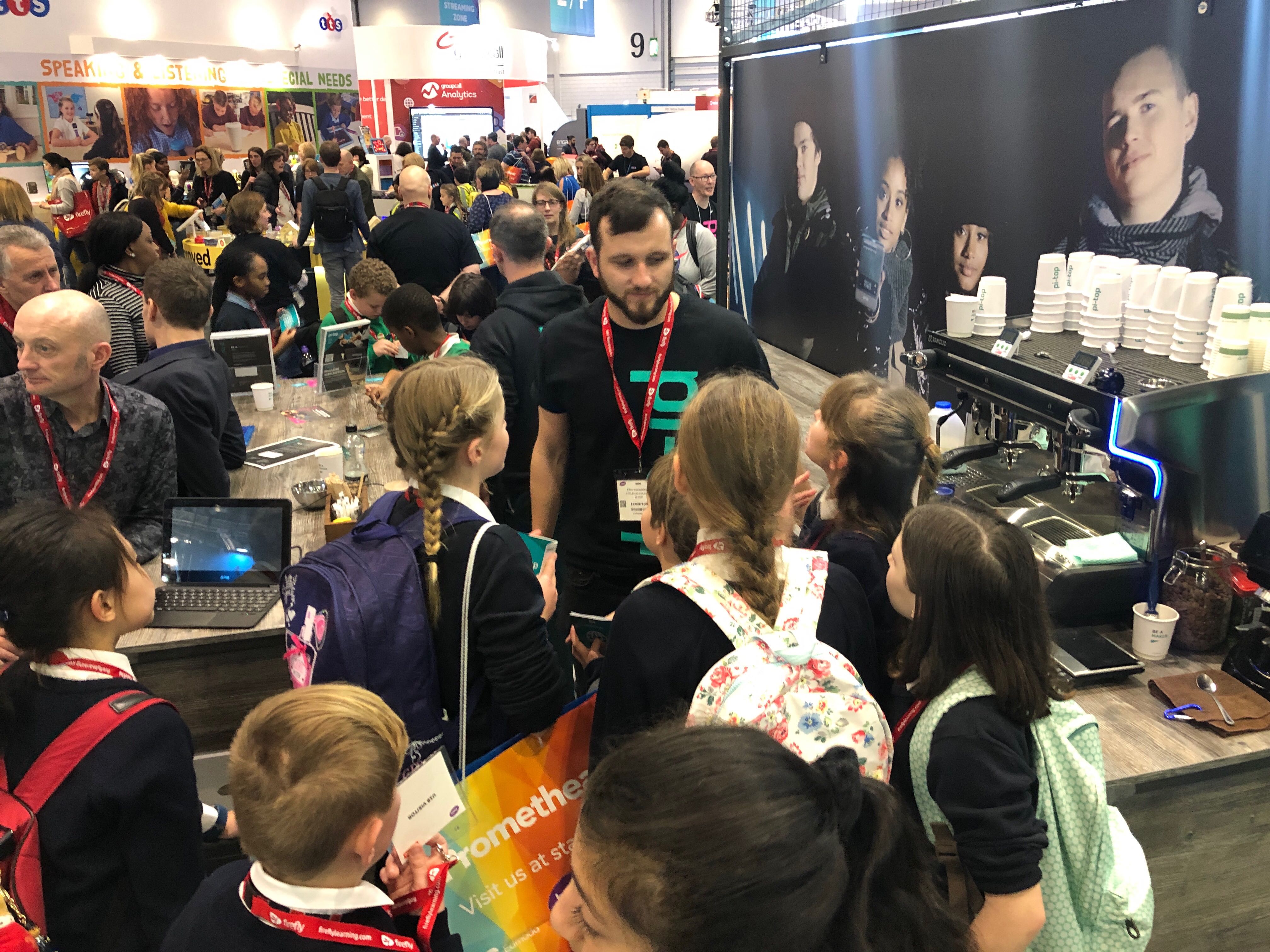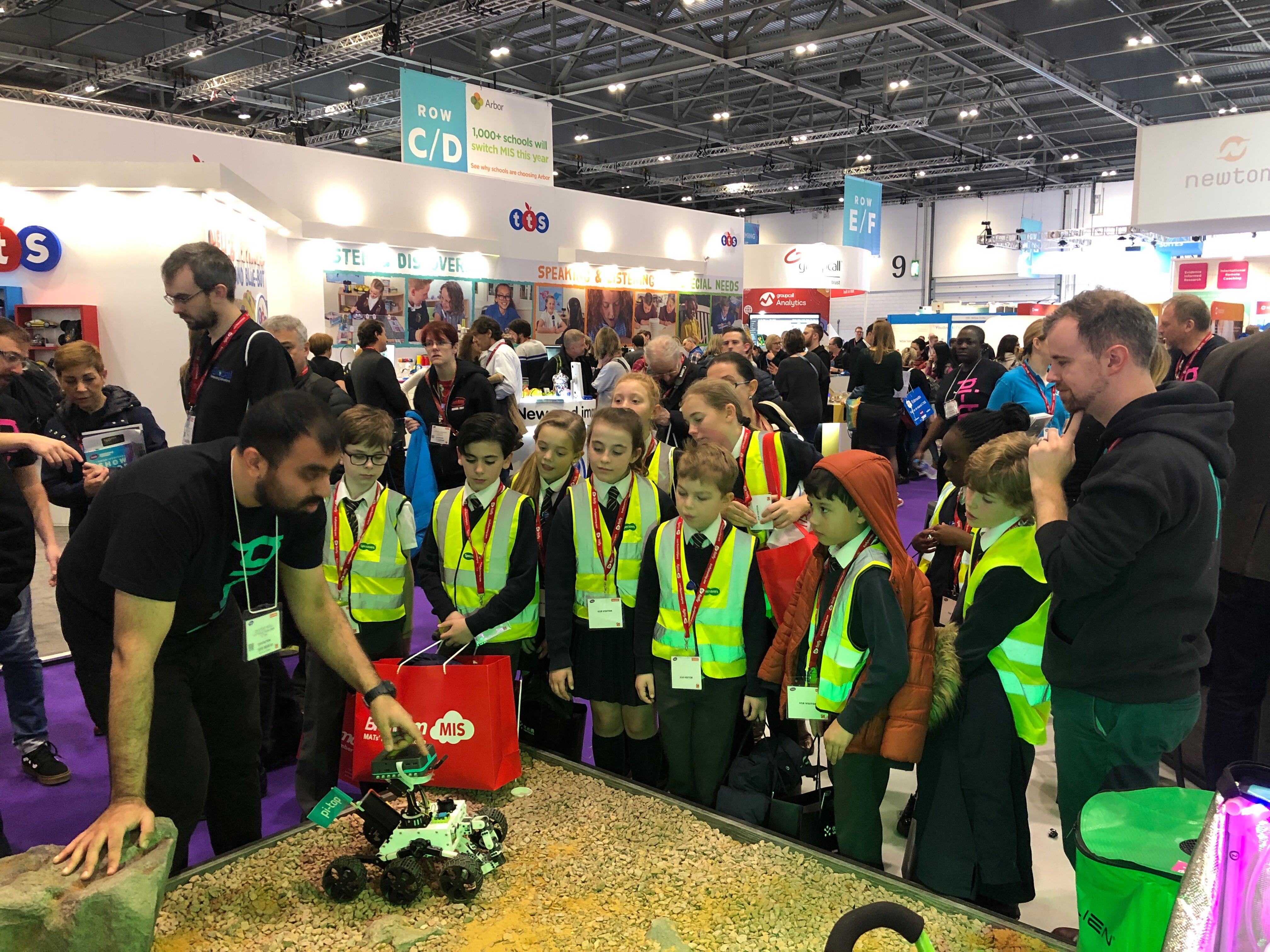 Finally, we also met loads of great kids, who are ultimately going to have to deal with the problems and challenges of the Fourth Industrial Revolution.
So, we believe can fix this, we believe we know how to, and yes we know it's going to be hard. But I'll let someone else have the last word.
"Our species tends to do its most interesting innovation, jump to very different spaces, when it's backed into a corner. The question is can we come out of that not just fighting, but with a very different set of mindsets, technologies and business models?"

John Elkington
We think we can, do you?