Hello friends! Here's our weekly round-up of the latest and greatest education, making, and learning stories that you should know about.
Elowan: A plant-robot hybrid
Elowan is a cybernetic lifeform, a plant in direct dialogue with a machine debuted recently by MIT. Using its own internal electrical signals, the plant is interfaced with a robotic extension that drives it toward light.
The project is an attempt to demonstrate what augmentation of nature could mean. Elowan's robotic base is a new symbiotic association with a plant. The agency of movement rests with the plant based on its own bio-electrochemical signals, the language interfaced here with the artificial world. If you'd like to hear more about using technology to grow plants, make sure you check out episode 08 of We Make The Future.
---
Teaching children regardless of grade
"The pair's approach is based on the idea that traditional lecturing at children seated in rows and divided by ability or grade isn't effective."
The problem is widespread. Millions of students are in multigrade classrooms worldwide, especially in developing countries, but teachers rarely receive training to manage such classrooms and policymakers neglect the problem, said Angela Little, a professor emeritus at University College London with expertise in multigrade education.
This article by The New York Times shows how two educators from India, Ms. Anumula and Mr. Rao, saw opportunities to harness the natural drive and helpfulness of children by breaking down the ranked-by-grade learning in favor of a community approach. "It's like a family environment," said Mr. Rao. "Older and younger children together, they can learn many things helping each other."
In 1987, the couple began testing alternatives at the Rishi Valley Rural Education Center. Nowadays, their pedagogy has been adopted by more than 250,000 schools across India and in more than a dozen countries, including Kenya, Nepal and Sri Lanka. The approach has also been found to be useful in wealthier countries like Britain and Germany and is applicable in countries like the United States, where teachers often manage large classes of students who have varied levels of understanding even within the same grade.
---
Be a maker
"My sin was suggesting that the future of work meant, through the lens of making, discovery and creativity, we would each need to own the means of production. That the act of making liberated us from being a generation of consumers to become a generation of makers, producers and problem solvers."
Check out this thoughtful piece by Graham Brown-Martin, pi-top's Chief Education & Product Officer.
---
We Make The Future: Ep08: Food in class

"We could be in the Arctic, we could be in the desert, we could be on Mars" says Middle School teacher Chris Regini. He and his class have turned their school's maker space into a fully automated hydroponic system to better understand the food needs of the future. Listen to Chris' story in episode 08 of We Make The Future.
---
The four requirements for fun
---
Maker stories from Kenya
Africa needs engineers, but its engineering students often end up working at auditing firms and banks. Why? Kamau Gachigi suspects it's because they don't have the spaces and materials needed to test their ideas and start businesses. To solve this problem, Gachigi started Gearbox, a maker space and hardware accelerator that provides a rapid prototyping environment for both professionals and people with no formal engineering background. In this forward-thinking talk, he shares some of the extraordinary projects and innovations coming out of his Kenyan fab lab.
---
Google Santa Tracker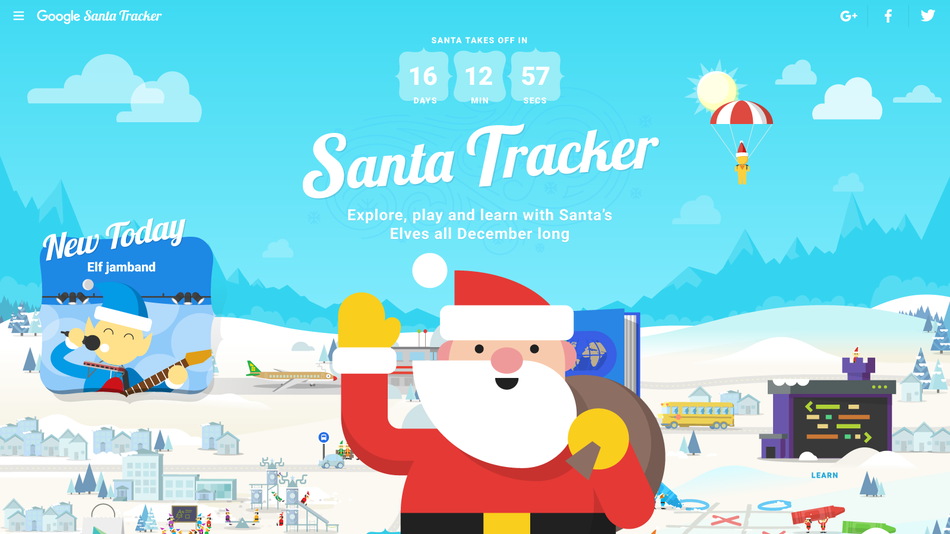 The Google Santa tracker has launched for its 15th year with games, calls to Santa Claus, and a countdown clock in anticipation for Santa Claus's trip around the world on Christmas Eve.
"In the village, you can practice basic coding skills, create original artwork, exercise your geographic chops and learn more about charitable organizations like Khan Academy and Code.org," according to the website. "Teachers can even download lesson plans with video guides to help teach their students fundamental coding skills and holiday traditions in English, Spanish, French, Japanese and Korean."@
---
Seen on social
---
Learn Braille
The BraillePi, developed by Bartimeus, is a small computer to learn Braille at home or at school. It was built using Ada Fruit and a Raspberry Pi.
A refreshable braille display is connected to the BraillePi. The user learns Braille step by step by going through exercises. At any time, the user can hear what is on the reading line by pressing a button above a braille cell.
---
America's strategy for STEM education
"Today, more than ever before, the United States' economic prosperity and national security rests upon its capacity for continued scientific and technological innovation. That capacity depends on our ability to ensuring that all Americans have lifelong access to high-quality education in science, technology, engineering, and mathematics (STEM)."
The White House has announced a new 5-year STEM strategy, Charting a Course for Success: America's Strategy for STEM Education.
The plan recognises that the greatest benefits of a strong STEM foundation cannot be fully realized until all members of society have access to STEM education and there is much broader participation by those historically underserved and underrepresented in STEM fields and employment, focusing on increasing "diversity, equity, and inclusion," for women and racial minorities in STEM.
---
How to make a paper circuit birthday card
Learn how to make an awesome paper circuit birthday card (or Christmas-themed card!) with this tutorial. The required materials to make it can be found here.
---
Germinate seeds with the help of 3D printing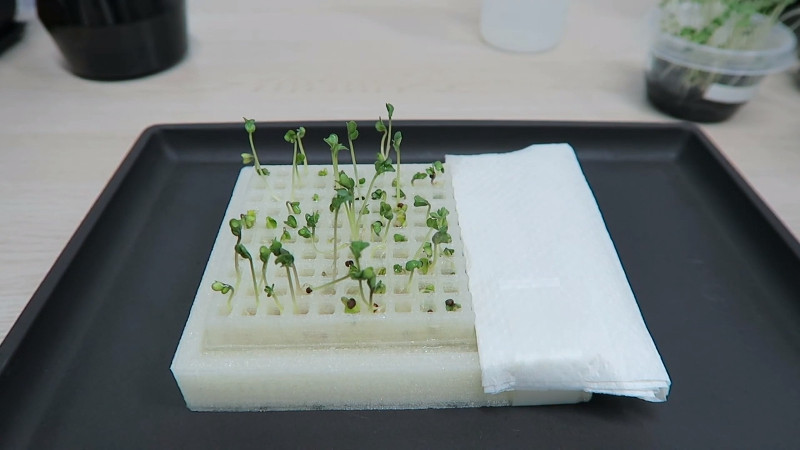 As teacher Chris Regini explains in the latest podcast, you don't need to start big when it comes to growing greens at home or in your class, a simple plastic bottle can work. However, this project by Mr Ben goes a step further and uses a 3D printer to create a rig to germinate seeds.
The rig consists of two parts – a seed tray and a water tray underneath. The seed tray consists of a grid to house the broccoli seeds to be grown, with small holes in each grid pocket to allow drainage. They're sized just under the minimum seed size to avoid the seeds falling through, and also provide a path for root growth. Beneath the seed tray, the water tray provides the required hydration for plant growth and helps train the roots downward.
---
Want to read more? Check out last week's 'best of the web' reading list.
Photo by Sandrachile . on Unsplash