Twinkly lights are now adorning the streets, and that can only mean one thing: the holiday season is upon us! Here are 12 fun Christmas-themed projects to keep you busy while you're waiting for Santa to arrive.
1. YouTube Christmas Ornament
Not a fan of the traditional ornaments for your Christmas tree? Make an ornament that you could hang on your tree and play old Christmas commercials (or any YouTube video) all day long.
2. 3D Xmas Tree Kit
This 3D Christmas tree add-on board for the Raspberry Pi, sold by The Pi Hut, has 25 LEDs, each controlled by its own GPIO pin. The tree can be used with any 40-pin Raspberry Pi.
3. LED Christmas Tree With Video Projector
Wait, what? a Christmas tree show AND a video projector?! Yes, my friends, that's right. Wow your guests with this not-so-discreet Christmas tree.
4. DIY Musical Christmas Lights for Beginners
Turn your regular Christmas lights into a whole-house light show with a Raspberry Pi. This guide is intended for people who don't know how to use Linux at all and those who do alike, the focus is for people for whom Linux and the Raspberry Pi are a complete mystery.
5. App-based light control
If the previous project seems too simple for you (or you just want to take a step further!) then you should check this one out. Use an app as a control panel switch between predefined displays. The code is available on Caleb Johnson's GitHub, and it connects a Raspberry Pi A+ to a strip of programmable LEDs that change their pattern at the touch of a phone screen.
6. Secret Santa Babbage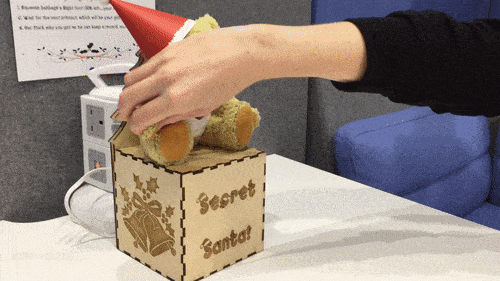 We love this project by Mark Calleja from Raspberry Pi. Upgrade your festive tradition with a Raspberry Pi, thermal printer, and Babbage.
7. Pireplace
The festive season calls for sofa and pyjama days at home, so for those long days at home, you can build an LED fireplace using a Raspberry Pi and an Adafruit Neopixel strip.
8. Make your own Christmas decorations
If you have access to a 3D printer, why don't you make your own Christmas ornaments and decorations? You can find lots of ideas online.
9. An interactive Advent calendar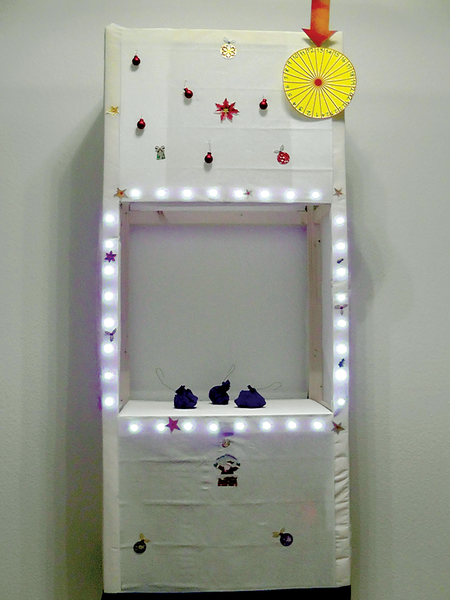 Pairing a Raspberry Pi with a few ICs, servomotors, and LEDs makes it possible to build a one-of-a-kind Advent calendar with moving parts and musical accompaniment. How does it work? Just press a button each morning during the Advent season and it will prompt the Raspberry Pi to play a Christmas tune, and deliver a small surprise gift for the day thanks to the servomotors. A wheel driven by a stepper motor shows the current date, and LEDs turn on for a festive display of lights.
10. Smart gingerbread house
This mouth-watering project built by Estefannie De la Garza (aka Estefannie Explains It All) uses an Arduino, Raspberry Pi, solar panel, servos, and LEDs. All the lights and servos are hooked up to an Arduino, which is controlled by a website that is hosted in her Raspberry Pi. The house is powered by a battery which is charged by a solar panel, and all of the electronic components are controlled with her iPad!
11. Frosty the Spyman
Frosty the Spyman's a snowman on a shelf that live streams video and moves on his own! Check out this page to find out how to build yours.
12. Let's get the party started!
This project was built specifically for NYE but you can use it for any festive celebration or party. The idea behind it is very simple: using an ESP8266 wirelessly coupled with a Raspberry Pi, the Party Button starts up the NYE party at the press of, well, the press of a button. The party button was created by Mark Ireland, an IT engineer from the UK.
If you want to build one for your next house party then have a look at Mark's website.
---
Have we missed any cool Christmas-themed maker projects? Let us know in the comments below or tag @Getpitop on social media to show us your creation!