Hello friends! Welcome back to another week of 'what we've been reading', and this week we've a bumper selection of the education, making, and learning stories that you should know about.
A 5-Year-Old's 15-page résumé captivates China
His résumé, at 15 pages, is glittering, complete with performance reviews (full of energy), a map of his travels (trips to Tokyo and Bali) and a list of books he has read this year (408 in total).
No, we're not missing another number before that five in the headline, you read it correctly. This leaked school application has prompted debate about whether children in China's test-crazed education system are being raised as soulless strivers.
"No matter how many good schools there are, people are always shooting for the best. Where their children go to school represents an achievement, an accomplishment for parents. But many don't know what a good education is," says Yong Zhao, a professor of education at the University of Kansas.
We believe there's a better way to nurture human potential and individual passions rather than reducing students to mere numbers...
---
Education, knowledge, and learning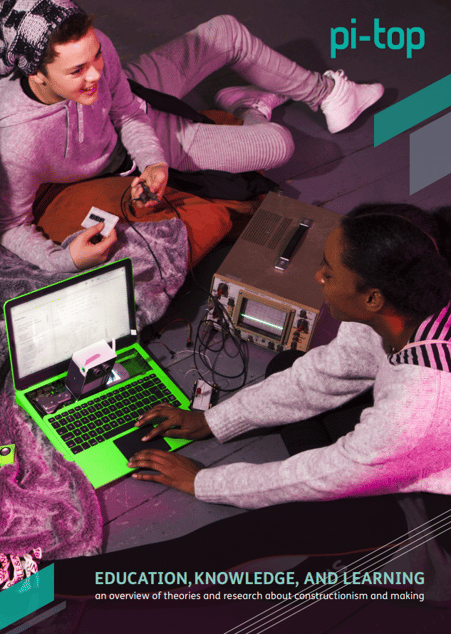 'Education, Learning, and knowledge – an overview of theories and research about constructionism and making' is a fully academically-researched paper exploring constructionism and learning by making.
The first version of this report by Lorraine Charles, pi-top's Director of Learning and Research, Dr William Rankin, and Learning Research Lead, Dr Catherine Speight was published in late June and version 1.1 has just been published. You can download it for free here.
---
7 ways to raise your kids to be good at their future jobs
It has nothing to do with AI or coding camp, and everything to do with a love of learning and emotional intelligence.
Most parents try to raise healthy, happy, well-adjusted, functioning kids. Apart from teachers, parents have significant influence on their children. This article by Fast Company shares seven things parents can do to inspire and help their children develop skills that are crucial to leadership in later life.
---
How 'makers'

make the classroom more inclusive
The kids need to be solving real-world issues in our classrooms, not just taking notes about it, not just reading about it. Science is dirty. Science needs to be messy, and we have to be confident enough to get messy.
Those are Carolyn Barnhart's words, a science teacher at Fredericton High School in New Brunswick, Canada. She was about two decades into her teaching career when she heard about making, and cautiously began to apply it to her classroom.
Carolyn is one of the teachers featured in this The New York Times article, which looks into the rise in popularity of making, and how it's transforming classrooms around the globe.
---
Seen on social media
Maker is a Culture, Not a Space #GeniusHour #tlap #kidsdeserveit #CodeBreaker https://t.co/sn1kAkpT76

— Brian Aspinall (@mraspinall) 5 November 2018
---
'School is very oppressive': why home-schooling is on the rise
Schools haven't got the time to nurture and teach children the way I think they should. School is very oppressive for young people. It's not natural to be sat at a desk all day, with fluorescent lights, computer screens, barely able to see outside
Exams, rules, timetables: do teachers know what's best for children? Increasing numbers of British parents don't think so, and they decide to home-school their kids.
The home-schooling movement emerged in the 1970s, when it was considered a fringe pursuit. Today, it is probably the fastest-growing form of education in the UK. The number of home-schooled children has risen by about 40% over three years, according to recent research by the BBC.
Many parents who opt to home-school their children say they are avoiding bullying, exam pressure and stress. Others have concerns about special educational needs, not getting a place at the school of their choice, or the school environment. "It used to be a philosophical ethos; now it's about children having some sort of difficulty at school," says Edwina Theunissen, former trustee of Education Otherwise, a home-education charity founded in 1977.
---
We Make The Future: Ep04: Learning through Movement
This week, in episode 04 of We Make The Future we explore physical movement and embodied learning with Alison Swann. Alison runs Dance Educates, which works with schools to build movement and creative problem solving into the learning experience. Listen to this episode here.

---
The kids are not all right
How bad does it have to get before people realise how bad it is?
https://www.youtube.com/watch?v=UvjLjfANSJs
'School' is a new UK documentary series following pupils, teachers, parents and school leaders across an academic year. Budget cuts and student anxiety are amongst the challenges facing the school.
The series unpicks the connections between key decisions and their human impact, right across the system. At stake is the future of Britain's next generation - what should we expect of our teachers, our children and ourselves?
If you're in the UK, you can watch the first episode here.
---
The most important skills for the 4th Industrial Revolution? Try ethics and philosophy
Moral judgment and ethics could be as revolutionary as artificial intelligence in this next revolution, just as the internet was in the last revolution.
As we've been posting in this blog, we're on the verge of what the World Economic Forum calls the Fourth Industrial Revolution, a term that describes a time when new technologies blur the physical, digital and biological boundaries of our lives.
While these changes are happening at an exponential speed right in front of our eyes, in the United States, increased interest in technology and computer-science related career has correlated with a precipitous drop in the proportion of humanities majors at colleges.
"We need to be educating people so they are productive and employable" says Patrick Awuah, founder and president of Ashesi University College in Ghan. "But we also need to be educating people so that they're creating a society that is livable and social, where human interaction is important."
---
You can't reduce a child to a spreadsheet number
Instead, the teacher treated each one of those struggling children as individuals, tending to their needs based on their real stories - the stories that the teacher had learned by spending day after day with the children.
Be that teacher. Look deeper, beyond the numbers, and find the reasons for the individual difficulties then base your interventions and teaching on those reasons. Students aren't data, and here's a good quote in support of that notion:
"At its simplest and most elemental, our duty to every new generation should be thus: to celebrate with each child the wonder of learning that is his or her birthright, the capacity for learning that is so naturally and so abundantly apparent in a child's mastery of speech and movement. Let us, with the ancient doctors, vow first to do no harm, and promise to resist measures that deprive children of their natural enthusiasm and exuberance as learners, their impulse to ask questions, to figure things out, to wonder, to express, to investigate, to construct, to imagine. Let us commit to a quiet contemplation of the idea that children are universally passionate learners." Robert L. Fried, The Passionate Learner (2002)
---
A world-class computing education
This week, it was announced a new £84million National Centre for Computing Education to improve the teaching of computing and drive participation in computer science. A consortium made up of STEM Learning, the British Computing Society and the Raspberry Pi Foundation, has been chosen as the provider for the project.
Pupils up and down the country will benefit from the UK's first National Centre for Computing Education led by British experts. Face-to-face training will be available at no cost to teachers in priority schools, and at very low cost to teachers in other schools. They will also provide bursaries to ensure that schools can release teachers to take part in professional development.
Photo by Matt Artz on Unsplash
Want to read more? Check out last week's 'best of the web' reading list.