It's no secret that we love maker spaces, and especially the fact that they allow you to get hands-on in an engaging and supportive environment. So when the opportunity to build our own at pi-top HQ in London came up, saying that we were all pretty excited might be an understatement.
Chris, one of our Mechanical Design Engineers, started running 'Introduction to Making' workshops for any team member that wants to have a safe working knowledge of the tools and machines in the maker space, so I took the opportunity to get hands-on.
If you want to know how I went from 'I have no idea of what I'm doing' to 'look, I've made something!', then keep on reading!
[wpvideo yGoQW44e]
Pick a project
We decided to make a desk tidy for this first project using the tools in the maker space, taking Chris' design as an inspiration.
The desk tidy consists of four different parts, each made on a different machine in the workshop. This allowed me to learn how to mill aluminium, turn it (on lathe) and laser cut acrylic plastic - not to mention how cool it was to see the 3D printer in action, that never gets old.
In our case, we made a desk tidy because we had the materials that we needed to complete the project, but you can make anything with the resources that you have available, you just need to be creative.
Get making
How much time do we have to complete the project? what part takes longer to make? how do we want to modify the original design to fit our own needs or personal taste? These are all important questions that you must think about before getting hands-on.
We started by 3D printing a robot that would work as our desk tidy's figurehead. 3D printing usually takes a while and by doing this, we had time to work on the rest of the parts while the 3D printer was working its magic.
[wpvideo tcendHmq]
This is when the drilling, milling and turning started (and the fun!).
[wpvideo TM4KPMiF]
[gallery ids="2165,2164" type="square" columns="2"]
Admire your creation
Once all of our parts were completed, and the 3D printed robot was dry, we assembled the desk tidy together.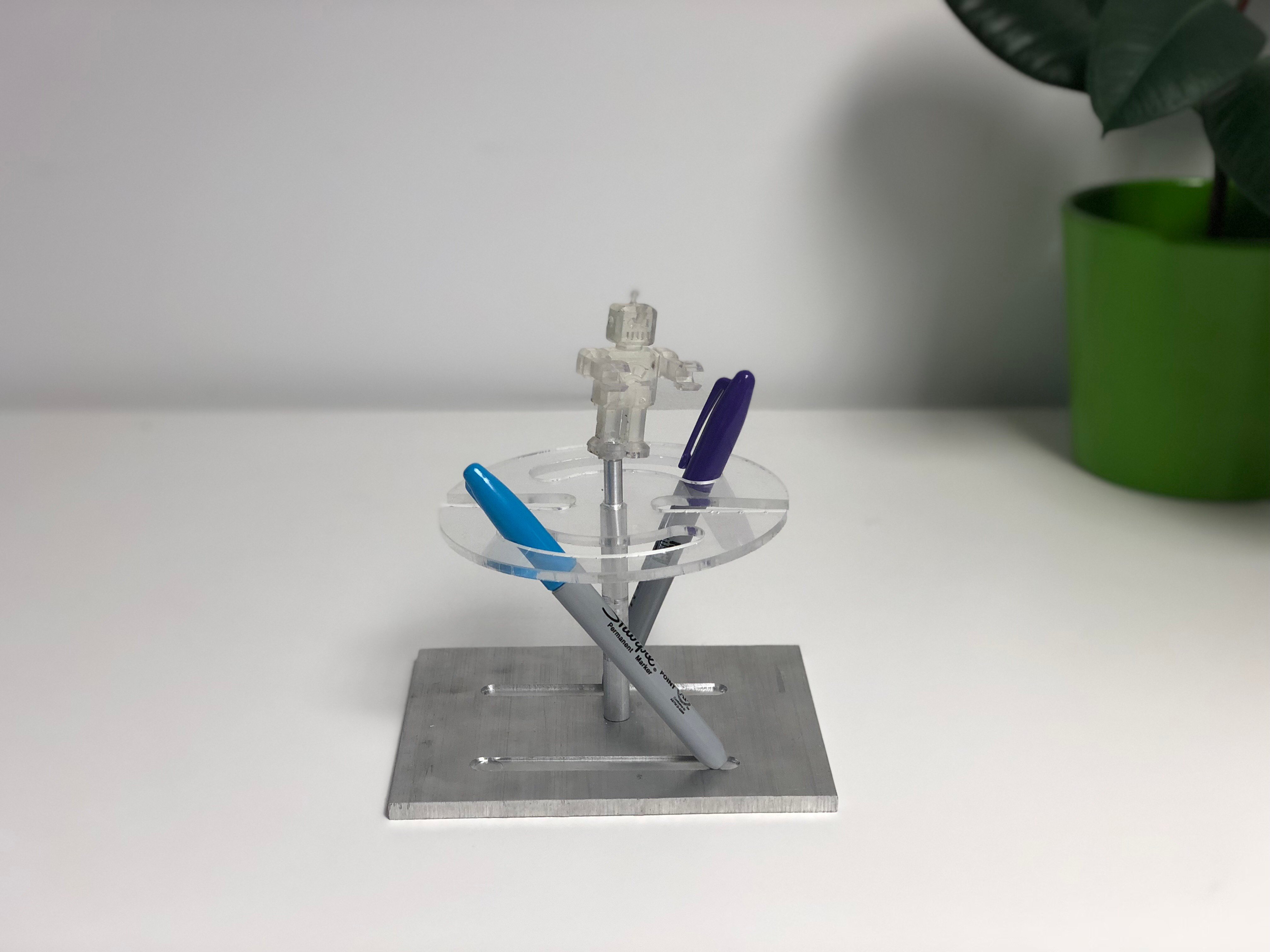 Top tips for new makers
If you don't know what to do, and you're getting started with making, we suggest that you try to make a project that touches a bit of everything, like the desk tidy we built. That will give you a better understanding of the tools that you have and which ones you prefer using.
Don't be afraid to make mistakes. You chopped that piece a bit too much? Soldered a cable in the wrong place? Fear not! Those mistakes will help you progress in your journey as a maker and make you come up with creative ways to solve that problem.
Start simple, think big. The beauty of learning by making is that you build your knowledge and skills as you make your projects. Starter projects are a great way to get you going, but try to think beyond that starting point.
The internet is a wonderful place to check out what other people are doing. Go online, meet fellow makers and find some project inspiration.
Have you made something cool and you want to show us? We'd love to see it! Just tag @getpitop when you share your creations on social media.