What is STEM or STEAM?
Across K-12 classrooms, college campuses, museums, makerspaces, after- and before school programs, businesses, and even in senior citizen programs, STEAM is making an enormous impact on how we view, teach, learn, interact, and think about the world around us.
Science + Technology + Engineering + Art + Math = STEAM
While you could argue that STEAM could be a 'class' (in theory, both informally and formally), STEAM is really more of an interdisciplinary program of study – or a contextual curriculum – that interweaves multiple subjects into an opportunity to teach students how science, technology, engineering, art, and math can, and do, relate and provide coordinated support to each other.
According to STEAMEDU.org, "STEAM ties ALL the subjects to each other in an interdisciplinary way as well as to the full spectrum of the rapidly changing business and professional world. It is a life-long career and life-readiness way of educating and learning that is adaptable to the rapidly changing global world we live in."
With that being said, it's no wonder then that the job market has positive outlooks for careers rooted in STEM.
The U.S. Bureau of Labor Statistics projects that nearly all STEM jobs are projected to grow faster than the average for all occupations. This is highly crucial information as we prepare our students to explore careers, college, and the workforce post-high school. For example, careers such as cybersecurity are growing at a rapid pace. In fact, Wyedean School in Gloucestershire, England, became a spoke school within the NCSC Cyber Schools Hub project. The Cyber Schools Hub (CSH) is a project that fosters collaboration between local schools, the National Cyber Security Centre (NCSC), companies and organizations who share the aim of encouraging young people to engage with computer science and cyber security principles.
It's also no surprise then that so many schools are looking to place a higher emphasis on evaluating and implementing current and future STEAM programs within their districts.
STEAM Program Benefits
There is no age limit to when we immerse ourselves in learning more about the world around us. And there is no set age as to when we start providing STEAM programs to children – or, for that matter, an age limit as to when they shouldn't be available to adults.
STEAM programs benefit all.
STEAM programs:
are inclusive to all our learners
encourage our students to think creatively and critically
provide opportunities for our students to think collaboratively
allocates time for students to work in teams
equips students with positive communication and conflict resolution skills
allows a safe environment for our students to try and fail and try again
and provide so many more benefits!
When viewing just a few of the many benefits of a STEAM program, it's obvious that the benefits of project-based learning are strikingly similar. Again, another reason as to why PBL and STEAM make wonderful complementary partners in our instructional strategies.
STEAM and PBL
When we teach our students the scientific method, we are already asking our students to think about the 'what ifs' of the world around them.
When we think about real-world issues, we know these are the things that students face (or will face) daily. These can be challenges, situations, products, and people. And these can be situations that can impact them and their community – whether directly or indirectly. Project-based learning allows students to explore and develop opportunities to change or overcome barriers that affect their 'real-world'. We ask our students to think critically, problem-solve, and explore solving the driving question.
There are also two more key components to keep in mind when it comes to STEM and how PBL supports these teaching strategies. STEAM programs are adaptable and flexible to the needs of state and local programs focused on core curriculum and 21st-Century skills. Additionally, with this flexibility comes the ability to align to Common Core State Standards (CCSS), Next Generation Science Standards (NGSS), and other state standards. It allows for cross-curricular alignment and support for preparing students for multidisciplinary assessments.
Common Core asks teachers to make sure that students are continuously reading and writing across the curriculum (after all, scientists and engineers spend a vast amount of time doing both), and that they "obtain, evaluate, and communicate in science and engineering."
Next Generation Science Standards (NGSS) make it clear that there is a crossover between these standards and Common Core. According to the National Science Teachers Association (NSTA), "The intersections between NGSS and Common Core teach students to analyze data, model concepts, and strategically use tools through productive talk and shared activity. These practice-based standards help teachers foster a classroom culture where students think and reason together, connecting around the subject matter and core ideas."
Another point to note here is that these NGSS standards are internationally benchmarked!
Knowing that PBL places a heavy emphasis on process, making connections to the real-world, working collaboratively, leveraging technology, and communicating out results inherently draws a dotted line to the scientific inquiry, using technology, applying math, integrating reading and writing, and applying the engineering design model.
What does this mean then? STEM and PBL are a true compliment to one another!
Scientific Method vs. The Engineering Design Process
Early on in elementary school, we teach our students about the scientific method. In fact, not only does the scientific method become a mantra (so-to-speak), but it becomes the root of our inquiry-based classrooms.
When it comes to a comprehensive STEM / STEAM program, we integrate science, technology, engineering, arts, and mathematics into the fold.
But have you ever wondered how both the scientific method and engineering design process come together for our students? You wouldn't be alone if you did. While there are a lot of similarities, there are some differences that set the two apart.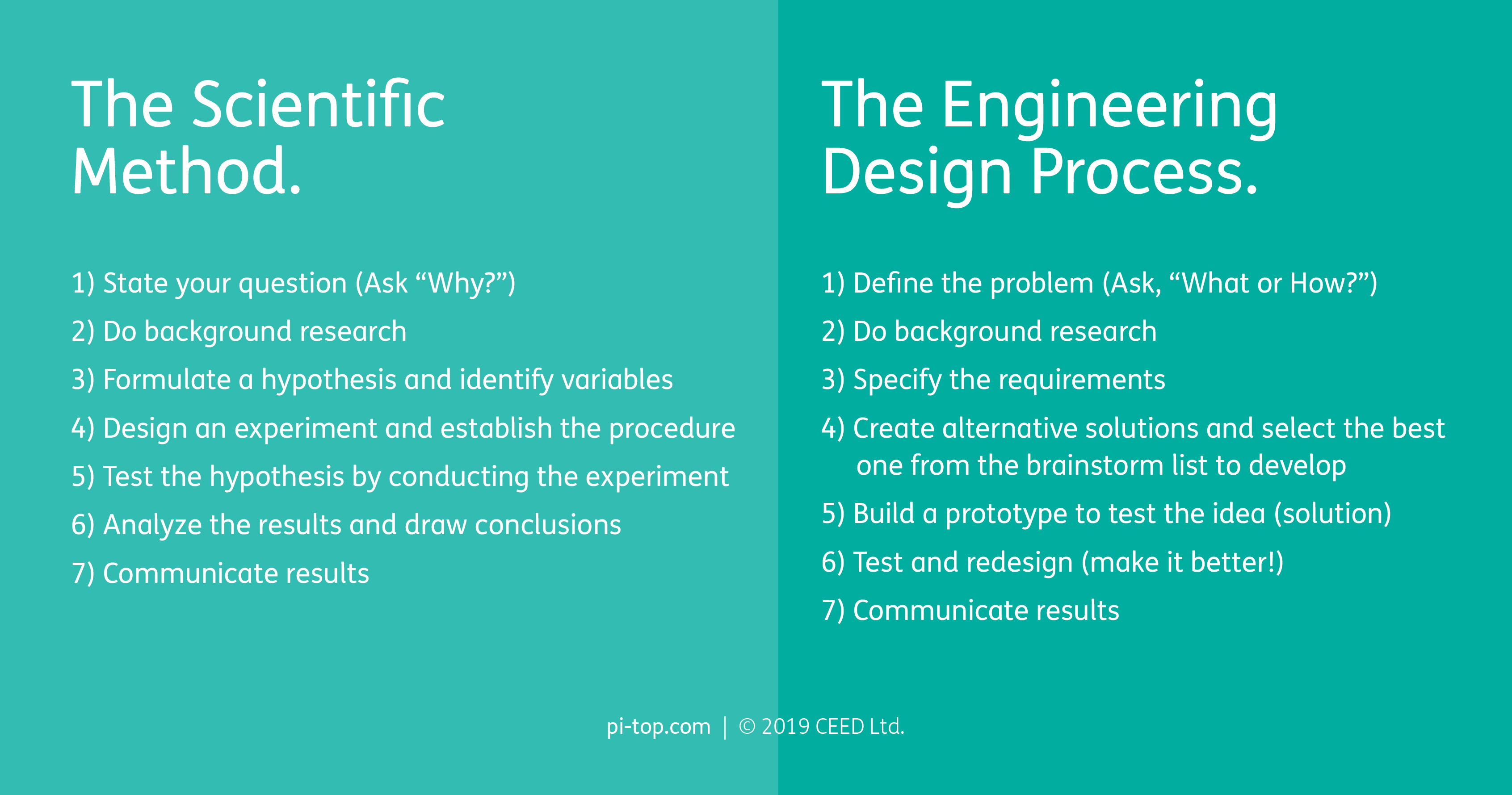 The Definition
In science, we explore the world around us. In engineering, we build and develop.
The Goals
In the scientific method, our goal is to draw conclusions from the experiment that was designed to test a hypothesis. In the engineering design process, the goal is to build a prototype that tests the solution from the problem we stated (not asked).
The Procedure
In the scientific method, we ask, "Why?" and state our question. In the engineering design process, we ask, "What or how?" and define the problem.
As you look at the table above, it's easy to see how both are similar yet have clear differentiators that set them apart. And as you think about your classroom, I'm sure you are able to see how each can play a key role in STEAM.
Since all educators who teach science are well aware of the scientific method and how to teach it, let's take a moment to really explore the engineering design a little more in-depth, as it plays a role in a STEAM PBL unit.
The Engineering Design Process
There are multiple visuals out there that depict the Engineering Design Process as a series of a different number of steps. The varying number of steps really depends on how granular you want to get. If you are an elementary teacher, you may want to start with a more simplistic five-step process: Ask, Imagine, Plan, Create, and Approve. If you are a middle school or high school teacher, you might want your students to dig a little deeper with the process. It's also worth pointing out that engineers don't always do all the steps in order. For example, an engineer may test a design only to find that the solution they thought would work did not go as plan. So back to the drawing board they go in order to redesign and retest to find the solution.
Steps of the Engineering Design Process